Hooray! It's April and that means that Dollhouse Therapy is officially kicking off today! In case you missed all of the hubbub, Dollhouse Therapy is a fun challenge to makeover a dollhouse. I'm joining Cassie from Primitive & Proper, Alice from Thoughts from Alice and Anu from Nalle's House in this challenge that starts in April and ends in June. Every month on the 1st Tuesday, we will share our design plans for 1-2 rooms of our dollhouses.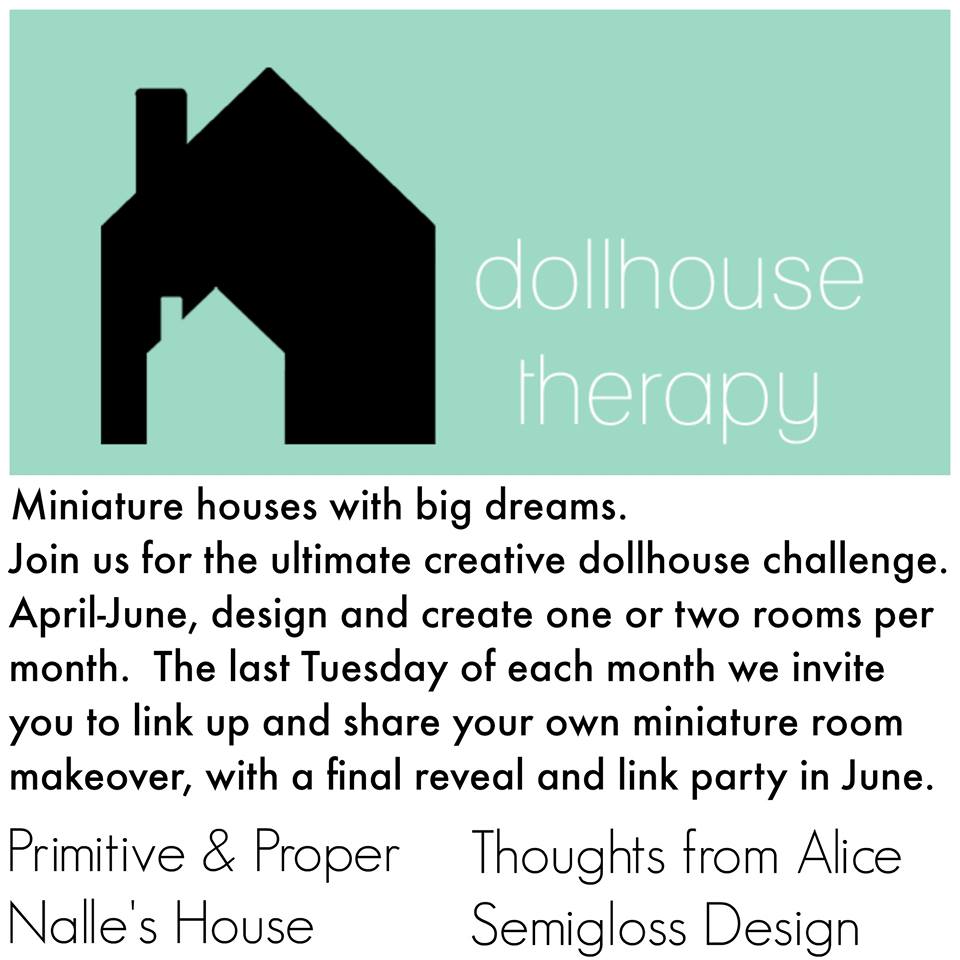 The challenge is open to instagram as well. Be sure to use the hashtag #dollhousetherapy.
Miniatures.com provided products for this post. All opinions posted are my own. I highly recommend miniatures.com for all of your dollhouse needs. No matter what your decorating style or budget, they have you covered!
This month, I will be decorating my kitchen/dining room and my bathroom.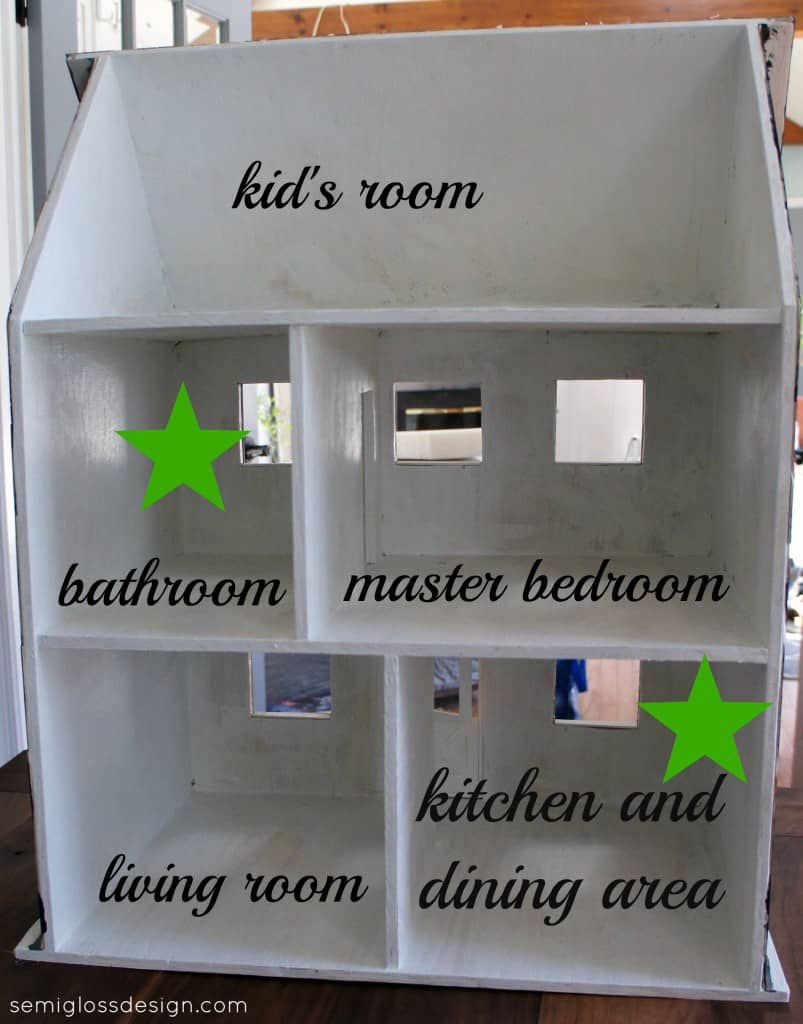 The inside of the house is primed and ready for love. As you may recall, I'm going for a vintage cabin feel.
I plan to pack a lot into a tiny space because its fun to get carried away. Some of the items were provided by miniatures.com, and some will be made. Just like in my real house, a mixture of sources makes it more interesting.
One of the most exciting things that I chose from miniatures.com was a turntable. Being able to easily spin the dollhouse makes it so much easier to work on. It will also make it easier to play with for my daughter. They also provided me with the beautiful dutch door that I am so smitten with (posted about in my last update.)
April Dollhouse Therapy Plans
I plan on making some kind of range hood, design still determined. One of my favorite things about making items for dollhouses is that they don't have to hold to up to real use. So I can make a hood from balsa wood and glue, but in real life, that would fall apart in no time!
The red tile is a representation of how I will paint this 1/4″ square clear tile sheet that I chose from miniatures.com. This appealed to me because I can customize it however I want to achieve the exact backsplash that I want for my kitchen. I could even paint designs if I choose (though it would be difficult!)
I love this white 1950's kitchen appliance set so much! All of the little drawers open. I love the details on each piece so much. I can't wait to fill the fridge with tiny food. They are perfect for my vintage cabin.
I'm making a barn light, though mine will be black. Once I figure out a secure hanging method, I will post a tutorial.
This image shows Rifle Paper Co wrapping paper, but I found a knockoff version with tiny flowers at Home Goods. It's so lovely and will make amazing wallpaper over the wainscot.
Every good cabin needs some wood paneling. Along the front wall, running into the living room, I plan on installing rustic clapboard siding strips. I've "stained" them with watered down acrylic craft paint. The wood will add a lot of warmth and character to the first floor.
The appliances shown above leave just enough room for a small cabinet. I plan on making an open cabinet similar to this IKEA island. It will be perfect for storing dishes.
Tiny tea towels will be so cute hanging by the sink! I plan on making my own.
Worn flagstone flooring paper has been installed on the 1st floor, uniting the spaces. I installed it using wallpaper mucilage, which was so each to use. I just brushed it on the floor and smoothed the paper down. The paper is a nice weight and stuck down nicely without any wrinkles or bubbles. I like the paper for flooring, because it provided a completely flat surface to sit furniture on.
This blue spatterware dish set reminds me of a set that my parents used to have for camping. I've always loved it because of that, so I knew that my dollhouse cabin needed a set!
I plan on making a cow hide rug. I have conflicted feelings about owning a real one, so a fake one for my dollhouse has to happen! I think I've even figured out a way to make one that looks like hair! Stay tuned for this project!
I wanted a simple dining room table so I chose this 5 piece oak dining set. If I had a real cabin, I would choose a similar set. The table legs are going black and the chairs are going green.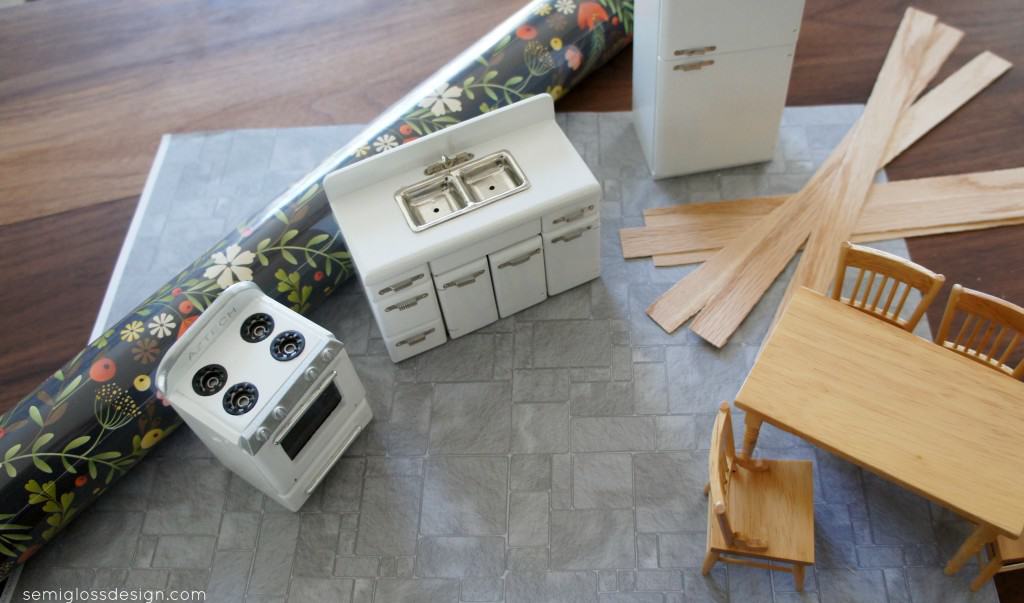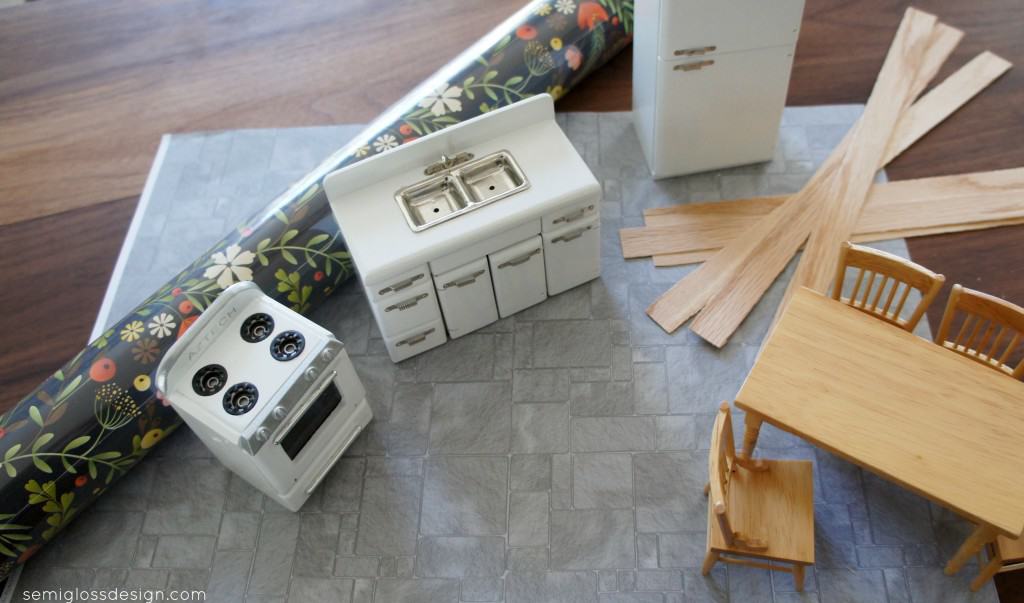 Here are some of the items in real life. It's all so cute!!!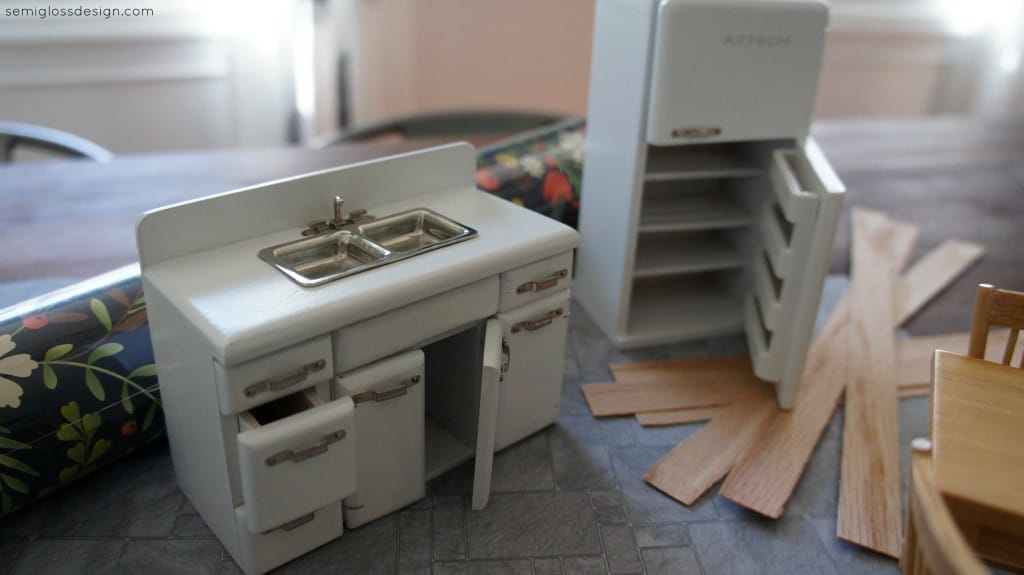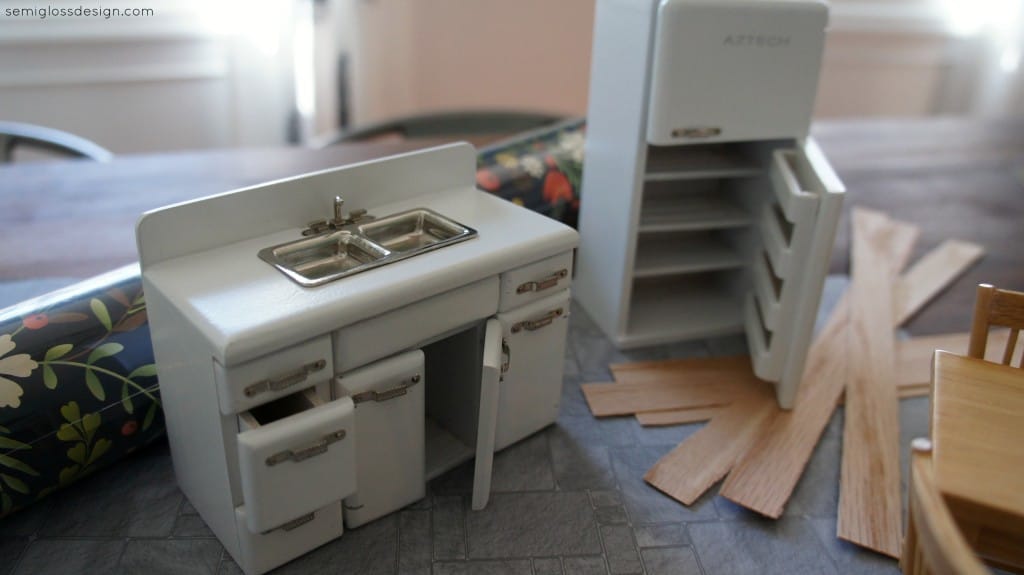 Look at how everything opens and the refrigerator has real shelves! I am blown away by the quality on the appliance set!
Now, for the bathroom plans.
I'm going to install map wallpaper. I found a scrapbook paper that I think will look great. It is even divided up to look like different maps!
More rustic clapboard siding strips! This time painted white, as shiplap wainscot.
How cute is this gold bamboo mirror? I wish that real ones were this inexpensive!
Lots of tiny plants.
I chose a modern basic bathroom set. I liked the scale of the sink. That was really my deciding factor. This set doesn't open or anything, but its a cute basic set.
I plan on learning how to make my own baskets. This hamper from Anthropologie has a great swirl detail that I would love to mimic.
I've been experimenting with embossing paper to make arabesque shaped tiles. I love the results, but maybe not my color choices.
Making a tiny bath rug will be a fun addition.
Bathrooms need storage, even in a dollhouse, so I plan on making some kind of storage unit to put stuff.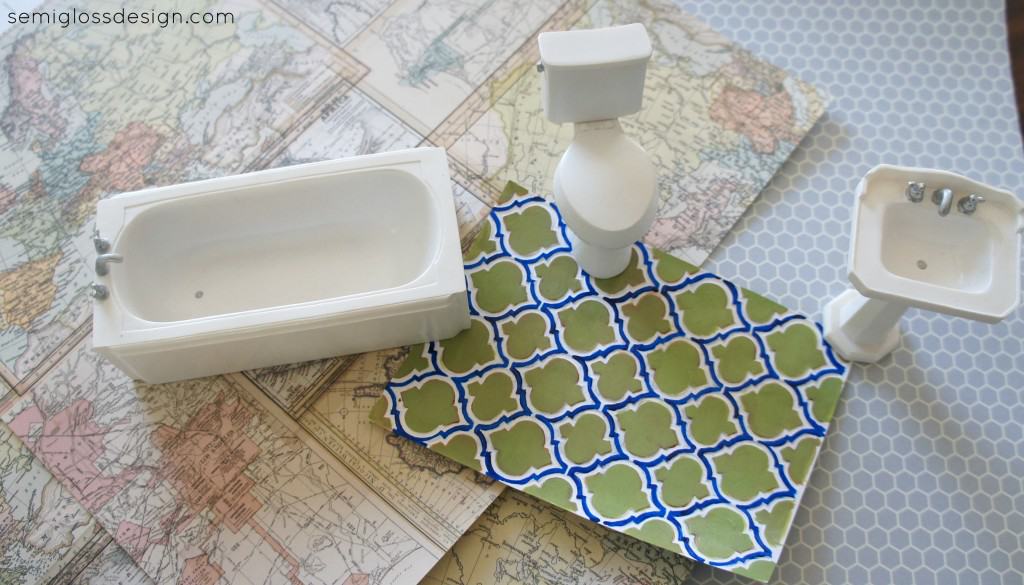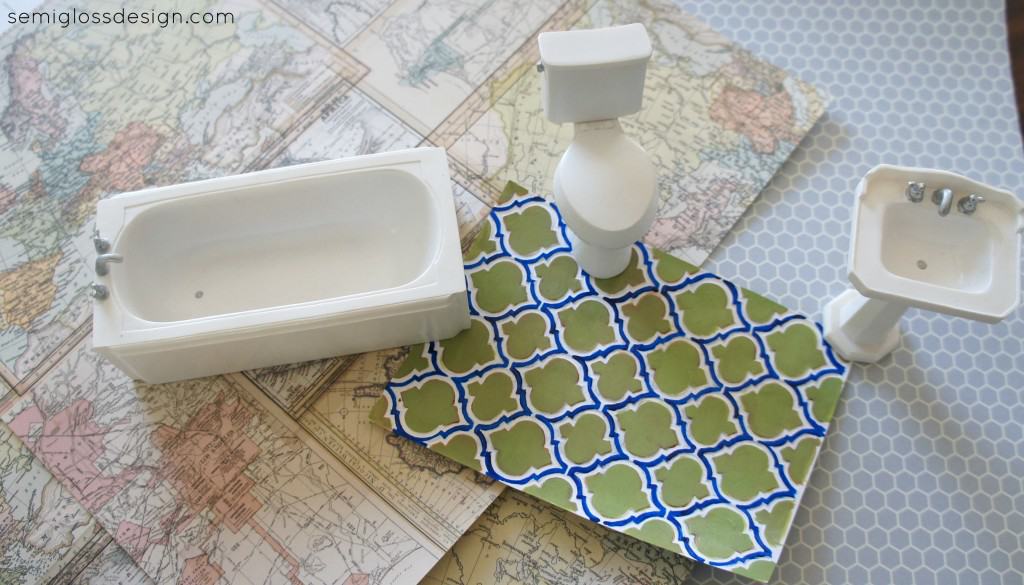 Here's what I have so far. I must have forgotten the mirror. The floor tile might change, as well as the colors on the arabesque tile.
Be sure to check in with my cohosts: Cassie, Alice and Anu! I can't wait to see what everyone does in their dollhouses! Are you participating in the Dollhouse Therapy Challenge?
***This is a sponsored post. Miniatures.com provided products for this post, but no additional compensation. All opinions posted are my own. I highly recommend miniatures.com for all of your dollhouse needs. No matter what your decorating style or budget, they have you covered!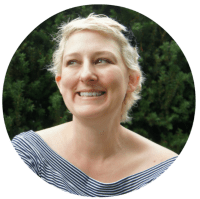 Emy is a vintage obsessed mama of 2 DIYer who loves sharing affordable solutions for common home problems. You don't need a giant budget to create a lovely home. Read more…