Remember my plans for my creative space that I posted about last week? Well, they changed. Which is good. We have long, cold winters and being in a dark basement would have been bad for me. I was talking through my plans with my husband and I learned that he wanted to finish that area over this winter. There's no sense in setting my space up when I would have to move everything in a few months. So I'm going for plan B: the family room with no real purpose. I blogged about this room when I first started blogging. Nothing has really happened since I wrote that post, except that I bought a pair of chairs to reupholster for either side of the fireplace.
On Friday, we removed as much stuff as we could from the room in order to make this my new creative space. A lot was donated or thrown away. This room becomes a dumping ground because it serves as a mudroom. Because it has never had a purpose, I end up working in here and making messes. Now it'll be all mine. It's clean but not for long.
It's a pretty room, but it mostly goes unused. I added the board and batten and the planking above the fireplace. The mismatched wood should probably be painted soon. This long, narrow room is dissected by doorways. One to the garage, one to the front yard, one to the dining room, one to the back yard. It's a floor plan nightmare because of the crazy traffic patterns. However, the big glass doors and skylights make it one of the brightest rooms in the house.
I'm going to place a desk in front of the sliding doors (the side that doesn't open). The view into the garden is my favorite and I love watching chipmunks and squirrels run around. A cutting table will sit on the opposite wall. We're making a table that is a little above counter height. I plan to do a lot of sewing in the room and I am trying to make everything as friendly to my back as possible. It can be so painful for me.
Since the room is open to the dining room and also used as an entry point, I want it to be a little prettier than my original design. I was hoping to use what I had, plus supplement a bit with an IKEA run, but I've decided to build a desk and cutting table at the right heights. They're fairly simple builds so it shouldn't be too hard.
I saw a table on Fixer Upper that was amazing, so I want to mimic it (similar to shown). On the show, it was made with a metal base. Unfortunately, welding is not in my skill set and my dad lives real far away. So, we're building it with wood and painting it black to mimic the steel. The top will be stained wood, probably just pine or poplar with walnut stain. I like using our dining room as a sewing table because of the size. I hate working on tiny desks.
I'm still in love with this lamp. The room gets plenty of light during the day, but if I work at night, I'll need light.
This IKEA bar table is kind of similar to what I'm building. Picture no drawer shelf and a shelf along the bottom. In other words, a basic workbench at counter height. The dimensions will be different and I want casters so that I can roll it out of the way if needed. It's going to be big. The top will be white with light blue legs.
Still using the Helmer cabinet to hold small things like scissors and thread.
Still making a vinyl floor covering in a gingham pattern. The remnant has been bought, I just need to paint it. The floors in the room are damaged, but I would rather them not get worse, so I want to protect them from paint splatters or glue. Plus, it adds pattern and fun to the room.
This might change, but I'm looking at buying a Henriksdal chair with a blue and white striped slipcover. It just looks so comfy and the high back looks perfect.
Oh Raskog cart, you're just too cute not to use.
For larger storage, I'm going to use plastic bins for now. I have this large white cabinet to the left of the desk area that I can steal space from as well. It currently houses coats, but many of them can be moved to closets.
I'm so excited to start making stuff in my new creative space. Now I just have to build everything!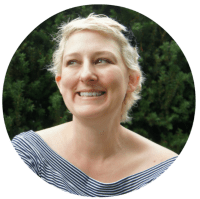 Emy is a vintage obsessed mama of 2 DIYer who loves sharing affordable solutions for common home problems. You don't need a giant budget to create a lovely home. Read more…