I feel so accomplished after building 2 work tables for my creative space over the weekend. Both builds went pretty smoothly with only one hiccup that is entirely my own fault.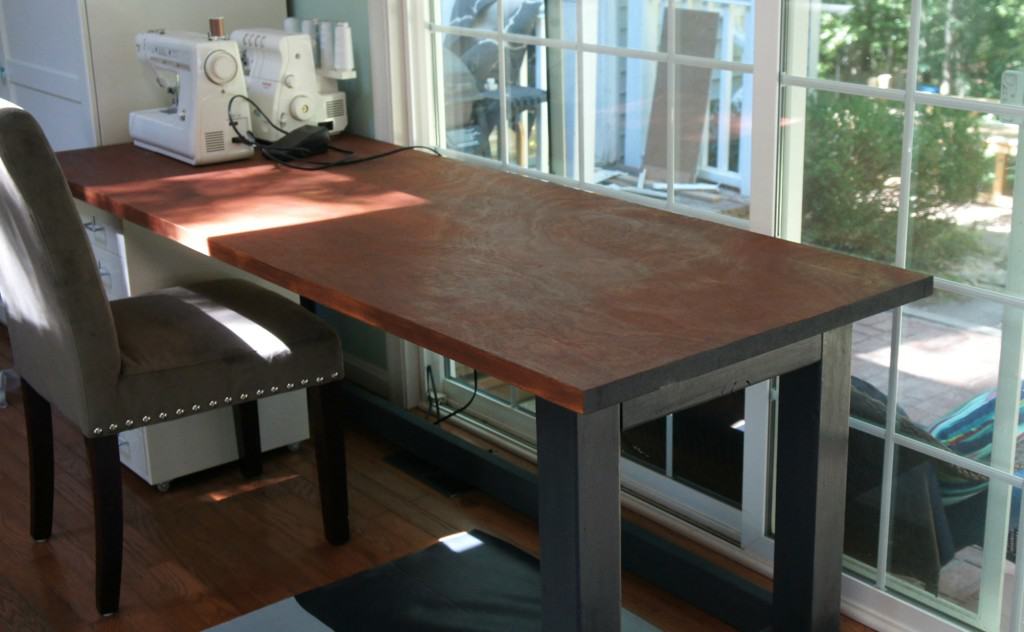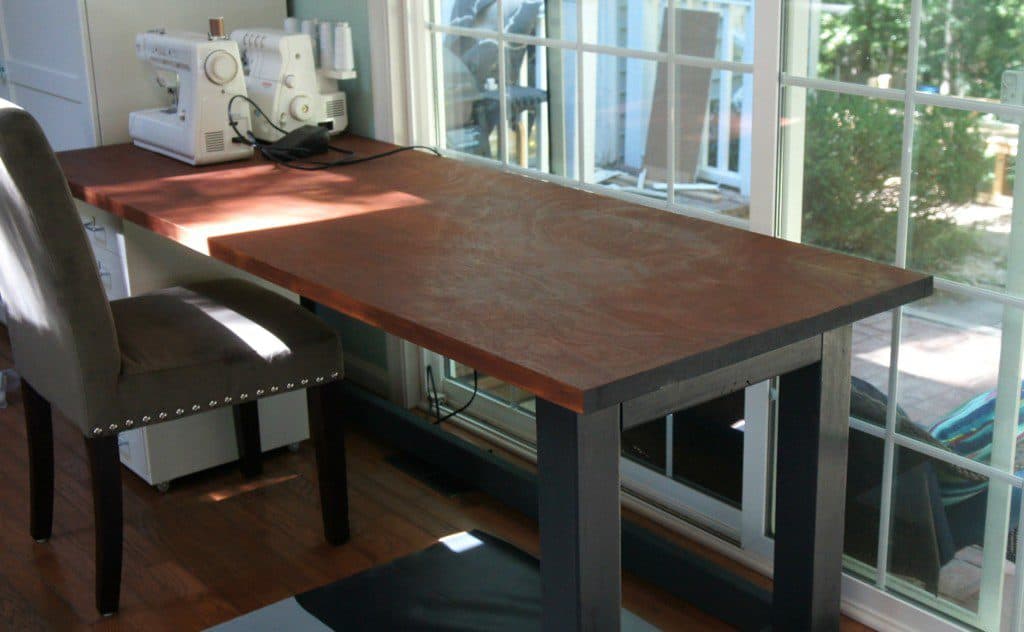 Work Tables Working Harder: Sewing Desk
A slightly lower height than desk height (27″) to make sewing more comfortable.
A giant surface to work on (30″ x 80″). I plan to use this table for sewing, but also for painting. I used a hollow core door because it's huge and cheap. It's also lightweight and fit in my car easily.
The base was installed at the back of the table to allow my chair to be pushed in all the way.
This happened on accident, but it perfectly fits my IKEA Helmer drawer unit.
While watching Fixer Upper on Netflix, I saw a dining table that I couldn't get out of my head. This is a variation of that table. The legs are made of 4 x 4's with a 2 x 4 support brace.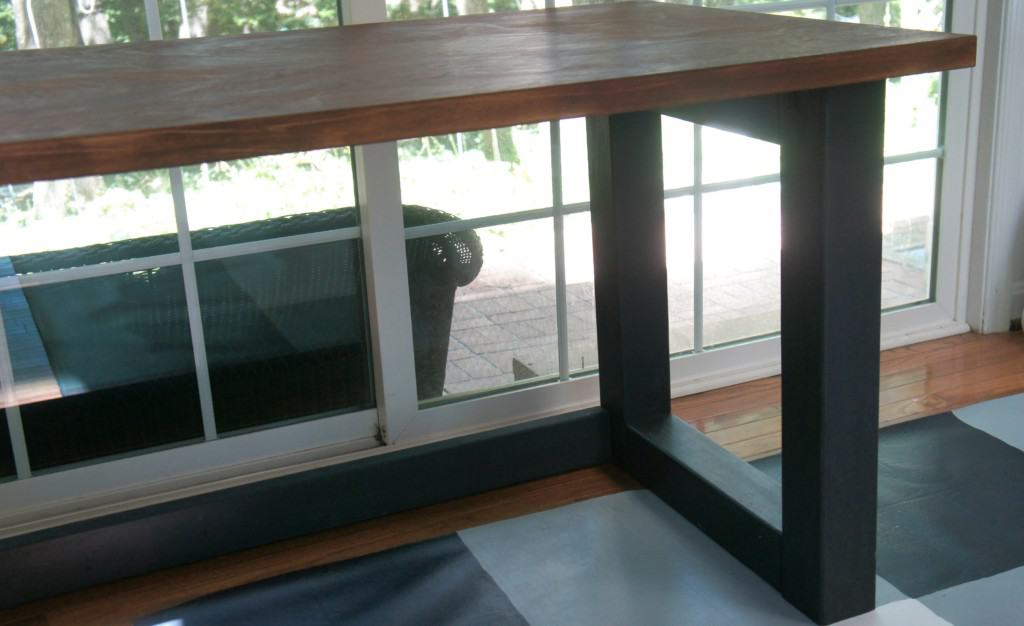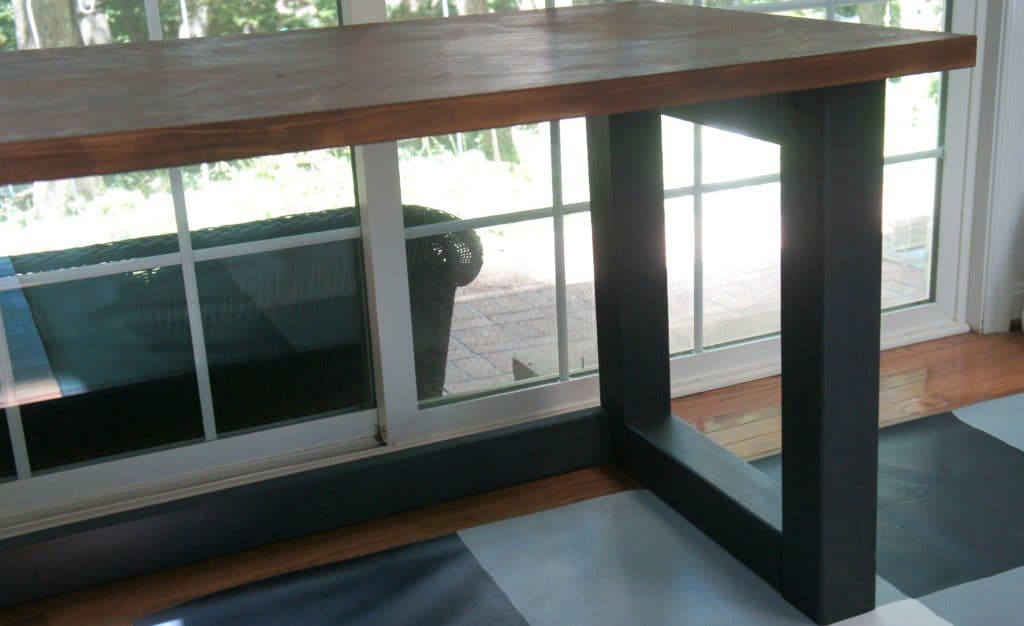 The table top is attached to the legs with L brackets that I painted over.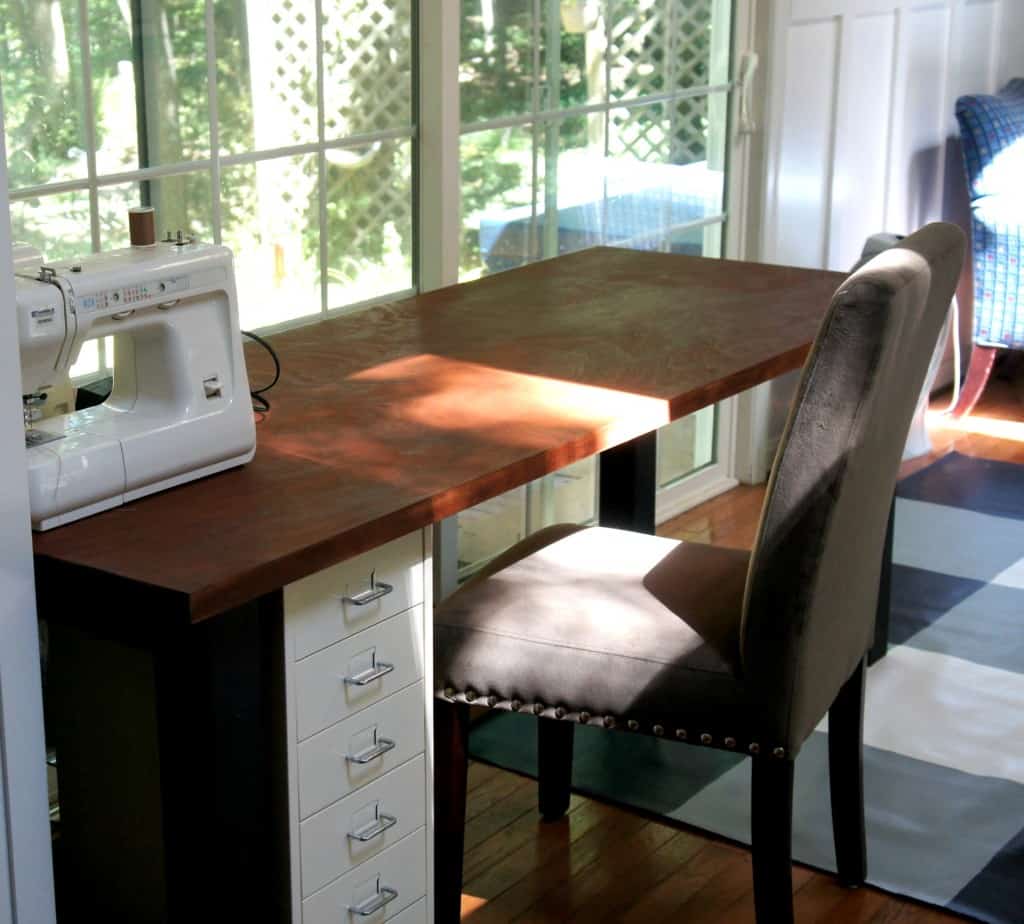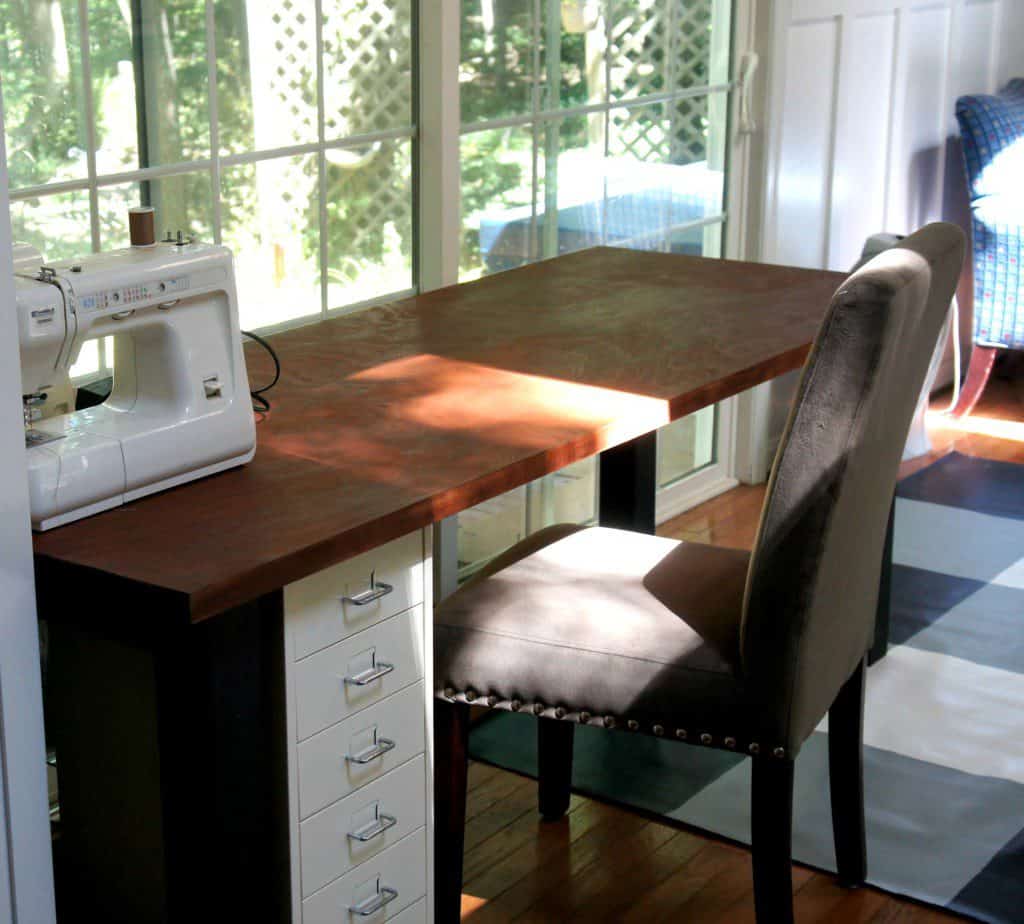 I love how much room I have to make messes, I mean create.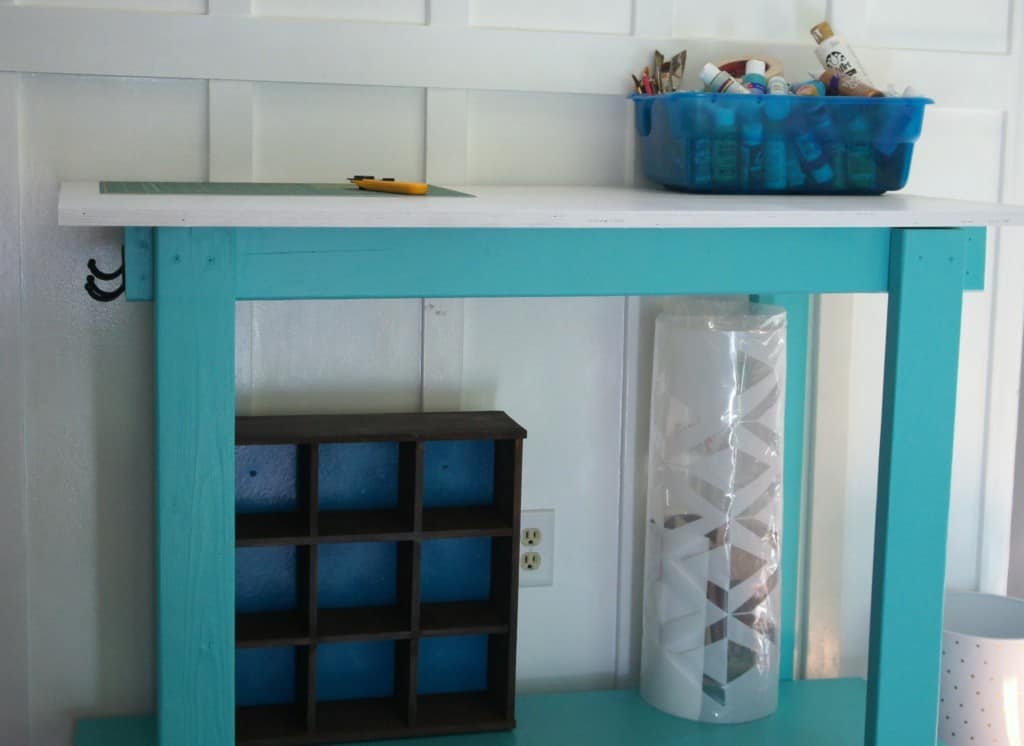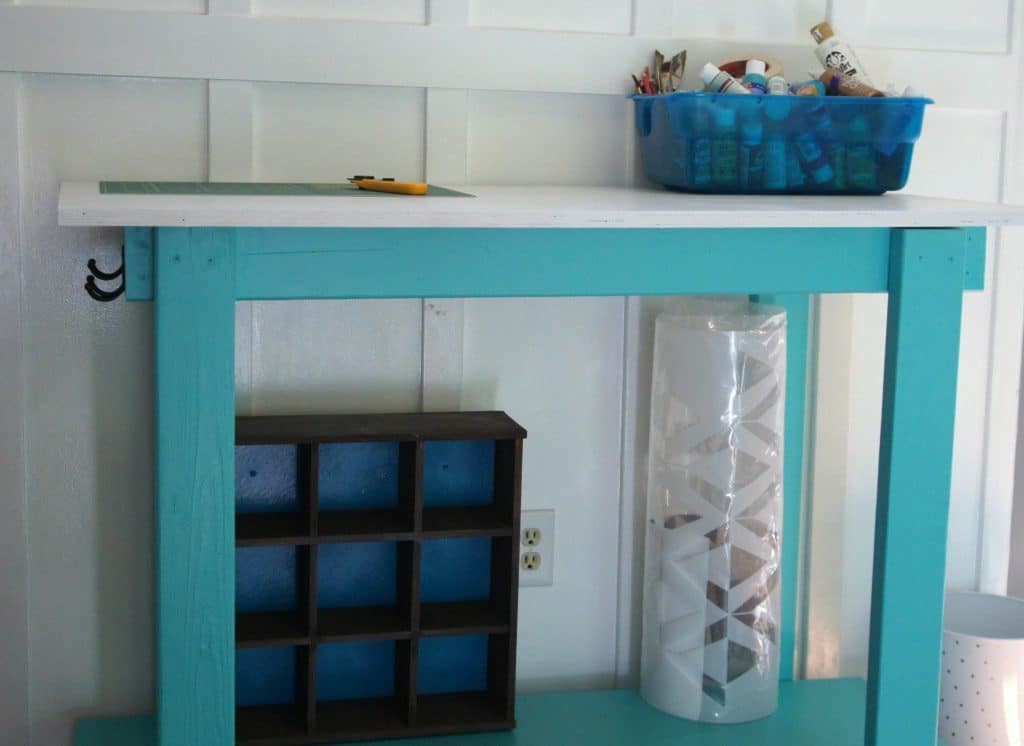 Work Tables Working Harder: Cutting Table
Since this table is a cutting table, I made it a lot higher. It sits at about 38″ high, which allows me to cut fabric without bending over.
It sits on casters (which you can't see because I was trying to photograph around my dog.) This allows me to move the table around easily.
There's a shelf on the bottom for fabric storage.
Hooks are on the sides to hang scissors and other supplies.
The base is made of 2 x 4's and the shelf and top are made from 3/4″ plywood. This is where I made a mistake. I was trying to shop by myself without any help. Instead of the 3′ x 4′ top that I wanted, I settle for a 2′ x 4′ piece of plywood for the top and I'm really regretting that decision. I think the top will be replaced with a larger piece of wood.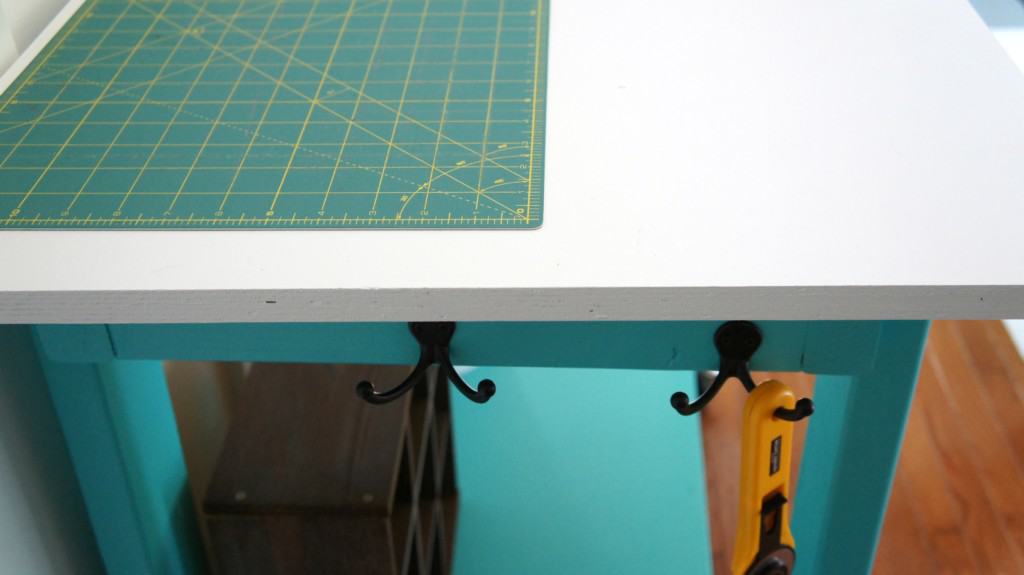 I painted it a happy teal with a white top that provides a great place for photographing stuff. Besides the size snafu, I'm really happy with my new work tables. Sometimes simple builds are just so satisfying.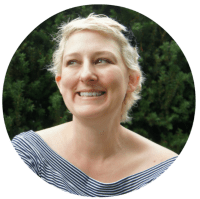 Emy is a vintage obsessed mama of 2 DIYer who loves sharing affordable solutions for common home problems. You don't need a giant budget to create a lovely home. Read more…