When we moved into our house, we were more focused with unpacking than decorating. A year and a half later, several rooms still need some love. My son's room is high on my priority list. Nothing was ever put anywhere with purpose. I removed wallpaper and painted the walls and ceiling, but beyond that, nothing has happened. He currently has way too much furniture in his room. I'm trying to talk him into an update that involves removing his old loft bed. It's too big for the room and blocks his  beloved built-in bookcases. The desk and shelf area do not get properly utilized. This room will not be his for very long because we are building him a room in the basement, eventually. But he deserves a small update in the meantime.  Here are my plans for a boy room update.
His only requests were to help organize his room so that he can have more room for his extensive book collection.
Many of my plans include DIY ideas. I want to make a room that reflects his interests and and functions better for him. Everything should carry over to his new room once it's built.
Boy Room Plans
I love these curtains, but not in "pink" as they are described. I want to DIY my own version with bleach and either black or blue curtains to reflect his love of astronomy (they look like the sky to me.)
This pillow is described as waves, but they look kind of like layers in rocks.
My kids have never met a tie dye project that they didn't like. Me neither. In a navy or green, this tie dye duvet will be a fun project.
The walls are currently green, which I'm leaving for now. There will be navy and red accents in the room.
He already has a few plaid blankets. But this one is nice as well.
In addition to the loft bed, he also has his sister's old IKEA Malm bed. It's the low version from a few years ago. I might upholster the headboard portion for him.
He has a lot of nature collections and I want to display them better. He loves rocks, but he also has a few interesting taxidermy type finds from our woods. One was a gift from our dog. Every boy room needs a skull or two! He also has some old arrows from a flea market. I think they're the coolest things ever. I've been wanting to buy some vintage pennants for his room. If he hates them, they can go in the treehouse.
I gave him geode book ends for Christmas. He always eyes them when we're at stores, so I bought him his own set.
His current light situation is horrible. I bought a cage pendant light from Urban Outfitters. It casts no light at all. I love this fixture from IKEA and so did he. It looks like the Death Star from Star Wars. If I can figure out how to make it into a plug-in light, we're golden. If not, I'll figure something else out.
I also want to buy him 2 of these IKEA sconces to use by his bed for reading.
Not pictured: 5 billion books.
If we get rid of his loft bed, he loses a desk and a dresser. I can built him a desk between the bookcases. The closet can be updated with a closet organizer with drawers. Or I can buy him a separate dresser. I'm not worried about this part at all.
There is a lot of IKEA happening in this  boy room, but it won't scream IKEA. He has so many collections and adding DIY items will lessen the catalog feel. I'm mostly using stuff I already have around the house for this room. I only need to buy light fixtures, curtains, and possibly dye if my indigo vat has gone bad. I'm looking forward to making his room a more pleasant place to hang out in. We're all pretty jealous of the way that his
sister's room
is turning out. He needs a similar place to call his own.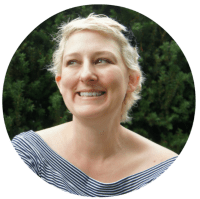 Emy is a vintage obsessed mama of 2 DIYer who loves sharing affordable solutions for common home problems. You don't need a giant budget to create a lovely home. Read more…