Progress in the pink room has been slow. All day cookie baking and holiday activities get in the way of DIY. So far, I have the beadboard installed, caulked and painted.
I used these panels from Lowes. There is a more expensive panel, but the bead part isn't rounded and looks weird. I had them cut into 32″ widths to match the short wall height in the room. Ironically, the short wall does not have beadboard. But the height lines up and looks nicer. I used a nailgun to attach them to the wall. Glue seems too permanent and I have removed 70's paneling that was attached with glue. It was not fun. Caulk goes a long way to fix ugly areas where the seams didn't quite meet. The picture above shows an area that was quite ugly! The gaps were large and I was worried about how it would look. Now you can't tell at all! I painted the panels using a roller and then brushing over the roller marks. The result is an amazing, glossy finish.
This weekend, my husband and I spent about half an hour removing the old beige outlets and replacing them with new shiny white ones. They were going to have to be messed with anyways, to bring them flush to the beadboard, so I bought a contractor pack to replace them all. It was much easier than I thought it would be. Just make sure the power is off and wire the new ones exactly as the old ones are done. We have one minor issue. The light switch used to control the outlet and therefore the overhead light, but it doesn't work now. We will figure it out eventually.
Two of the bookshelves were built and installed. I added shims where it's necessary to make everything level, then attached a 1×2 to the wall and attached the shelves to the 1×2 to add more stability. I have two more larger ones to build (plus the bases) and a desk. Then everything needs to be installed, trimmed out, caulked and painted. I am loving the progress so far, but I still have so far to go.
To do still:
build 2 more bookshelves
build desk with drawer
install items
trim out all built ins
caulk and fill holes on built ins
paint built ins
paint vanity
paint dresser
make canopy cornice
sew canopy panels and install
window treatments
windowseat cushion
art
chalkboard and magnet board for door
organize toys and books
spruce up the chandelier
But today, I still have presents to wrap!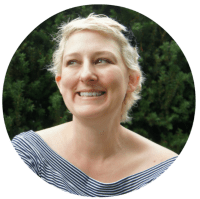 Emy is a vintage obsessed mama of 2 DIYer who loves sharing affordable solutions for common home problems. You don't need a giant budget to create a lovely home. Read more…