Our next big project is to redo the first floor bathroom. This is the bathroom that our kids use, but it also serves as the guest bathroom. We're tackling this space next because it's not going to be very expensive to do. We bought a vanity last year when we ran across it on clearance. It just needs new flooring and a faucet. The wall color, lighting, and hardware will all stay the same. The bathroom is not currently awful. However, it's a little crowded feeling and the linoleum has seen better days. The tub and tile are in good shape and are completely unoffensive so they are staying as they are. The current sink vanity is too large for the space and makes the walkway too narrow. Here are a two options for the bathroom plans.
Bathroom Plans Option 1: Bold Floor
The black and white tile floors are the focal point here. I love this tile and am dying to use it somewhere. It would be so perfect with the modern vanity and lighting. The walls would stay Benjamin Moore Wickham Gray.
I'm toying with the idea of a wooden bathmat. I'm not sure that my kids will be a fan though.
Fun towels add much needed color.
We desperately need a small hamper in this bathroom, so this small trashcan from IKEA would be perfect. I love the small size. The other option is to figure out a laundry chute (the laundry room is directly below this bathroom.)
How great are these shelves? They seem like a ridiculously easy DIY project.
I am so in love with shower curtain. It's a knockoff of the Anthropologie one. I've seen it a million times, but I still love it. Glass doors would be more practical though. My kids make the biggest messes ever. Glass doors add to the cost considerably, though.
Bathroom Plans Option 2: Bold Walls
This bathroom plan makes the walls the focal point. I would love to do wallpaper, but in a kid's bathroom that sees a lot of abuse, that's just not an option. So I'm looking at wall stencils. All of the stencils would use the current wickham gray color as the base, with the stenciled portions in black. The first stencil is a bamboo motif that reminds me of a house we looked when we were house shopping for our first house. It had the most fabulous foil bamboo wallpaper from the 70's. I've never been able to get it out of my mind. I like that it's organic and if I screw up, no one will be able to tell. Plus, we have bamboo growing in the backyard. The second stencil is a geometric triangle print. I love the graphic nature of this stencil. The third stencil is based on Otomi artwork and features animals that are very cute. I feel like this would appeal to my kids, but still be stylish enough for me. I get the feeling that this will be my husband's least favorite option.
The floor tile would be simple. It's a dark gray with lines in it. I love this tile. We used it in our basement and it's so pretty. We might still lay it in a fun pattern though.
A pretty striped basket would work as a hamper.
Colorful towels would add interest.
These shelves are so cute and simple, but the colored pressed glass make them interesting.
If we don't do glass doors in the shower, I would find a simple shower curtain so that it doesn't compete with the walls.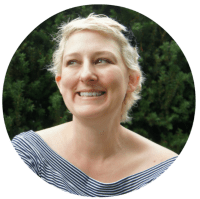 Emy is a vintage obsessed mama of 2 DIYer who loves sharing affordable solutions for common home problems. You don't need a giant budget to create a lovely home. Read more…