Good morning! I don't know about you, but this weekend felt too short. We celebrated my daughter's birthday and spent the weekend in a leisurely manner, which we apparently desperately needed. No work on her bedroom was accomplished. I'm at that last 10% that is really hard to get done. It looks fine now and even semi-functions, but it still needs the last finishing touches. I'll spend this week finishing up the last few details. As usual for me, I'm already looking forward to the next project(s) on the horizon. The kid's bathroom is our next major project. I wanted to squeeze it in between their birthdays so that guests don't have to go upstairs to use ours. It's a pretty simple update, but I'm giving us 6 weeks in case of set backs. Here is the bathroom before pictures.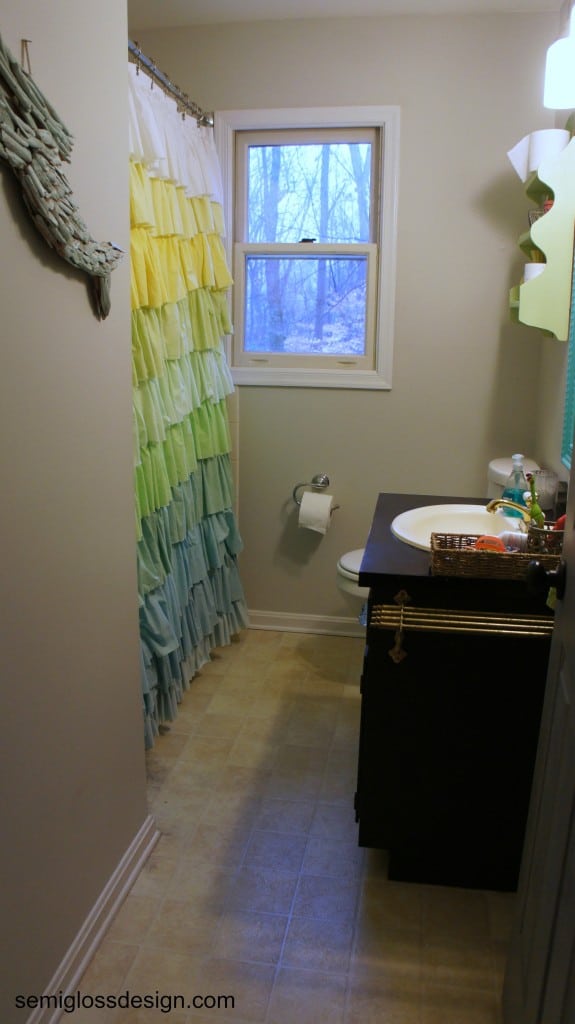 So not completely hideous. These are not true bathroom before pictures. I removed wallpaper and painted when we first moved in. I painted the vanity with Annie Sloan chalk paint in graphite. I replaced the knobs with pretty aqua ones. The vanity top is formica that I painted with clearance Rustoleum countertop paint. From far away, it looks great, but it took forever to cure and is all marked up from stuff that was sat on it. Despite being oil based and smelling awful for days, it washes away every time I clean the bathroom. It's still better than the yellow formica that it was!
I painstakingly made the shower curtain. In order to achieve a nice ombre effect for the ruffles, I dyed each color. That part was fun. Sewing the ruffles was not. I hate sewing straight lines and this took forever. Plus, wrestling it into a sewing machine was not fun either. It seems a shame to spend so much time on something for it to not work out, but that happens sometimes. If something isn't working, no amount of guilt about a wasted project is going to make it work.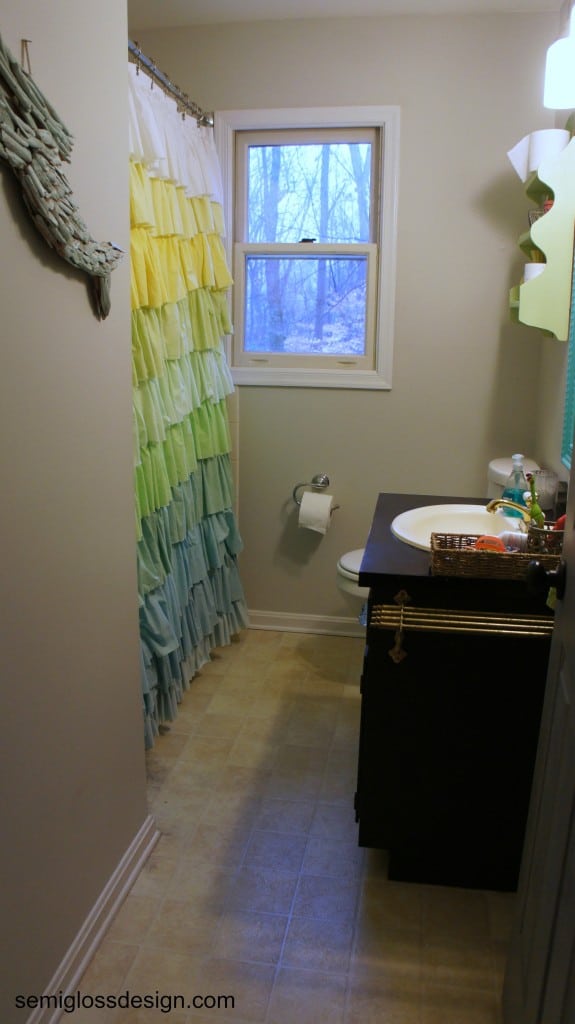 The cabinets are the same design as in our kitchen. They were custom made when the house was built and are very nice quality. Unfortunately, they are too deep for a bathroom. Two feet deep is way too deep for a small bathroom. The walkway between the wall and the cabinet is about 18 inches. A 2 foot deep cabinet sounds like it has plenty of storage, but I find the space to be unusable. Obviously the window needs to be painted still. We have 5 acres of woods and the neighbors have a few hundred, so privacy is not an issue.
I removed the standard builder mirror and replaced it with one from Home Goods that I painted. The shelf came from a small flea market. The light fixture was replaced when we first moved in. I can't remember what was there before, but it was ugly and brass. Isn't the faucet lovely?
What doesn't work:
So while not hideous, the bathroom doesn't work well for us.
The walkways are too cramped. The vanity cabinet is 2 feet deep, which gives us about 18 inches to walk through. It feels very tight next to the door as well. I would love to put a small hamper in here.
The curtain is too poufy and visually adds to the cramped feeling.
The sink is plastic and hard well water makes it hard to clean.
The brass faucet is too shiny and ugly.
There's a cool old brass clothes rack thing attached to the vanity. We love it, but it doesn't get used. I think it would be better used in the sun room or the laundry room.
The main reason that we have to fix the bathroom though is that my kids have let too much water splash on the floor and we're pretty sure that we will have some not fun surprises when we demo the bathroom. It smells weird and the linoleum has a dark spot that I'm pretty sure indicates mold. Fun stuff!
What works:
The bath tub and tile are nice. The tub is enamel and timeless. The tile is simple 4″ square whitish tiles. It's not what I would have chosen, but my choice wouldn't have been so different that I feel the need to change it.
The toilet is fine.
The hardware is all staying. It's all stuff that I picked out. I love chrome because 10 years from now, chrome will still be beautiful.
The light fixture is also staying. It's newer.
The wall color (Benjamin Moore Wickham Gray) will be staying. White walls in a bathroom with kids and a dog won't work for us. I already scrub the walls constantly!
The mirror will stay, but probably get a paint job.
I finished my last mini update days before we found a vanity on super clearance. It's much smaller and modern, but has drawers which creates usable space! I knew when I found it that it made everything I had just done redundant. But my mind immediately started scheming a new plan, one that fits with my overall plan for the house.
This is the plan I'm going with. The fun tile won. I think I'm going with a soft bath mat instead of the wooden one. I need to find a small one that isn't white. I'm not sure if we are starting this project this weekend, but I really want to. The tile is online only, so it has to be ordered. Demo is first though. That's the fun part!
For now, I'm off to finish my daughter's room. The delivery man just brought the last box of fabric that I ordered.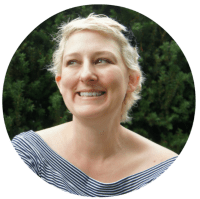 Emy is a vintage obsessed mama of 2 DIYer who loves sharing affordable solutions for common home problems. You don't need a giant budget to create a lovely home. Read more…