April Dollhouse Therapy Reveal
Today's the day for the April Dollhouse Therapy Reveal! As I previously wrote, I chose to do my kitchen and bathroom. Making tiny things has been so much fun. It's really funny when I go to set things up and my hands feel huge. I knock everything over and curse my giant hands that are actually quite normal sized.
In case you have no idea what I'm talking about, I've joined my friends Cassie, Alice, and Anu in hosting The Dollhouse Therapy Challenge. Our goal is to makeover dollhouses, 1-2 rooms a month, from April to June. At the end of each month, we will host a link party so that everyone can join in on the fun. I'm really looking forward to seeing everyone's hard work. We all have different decorating styles, so it should be really fun. A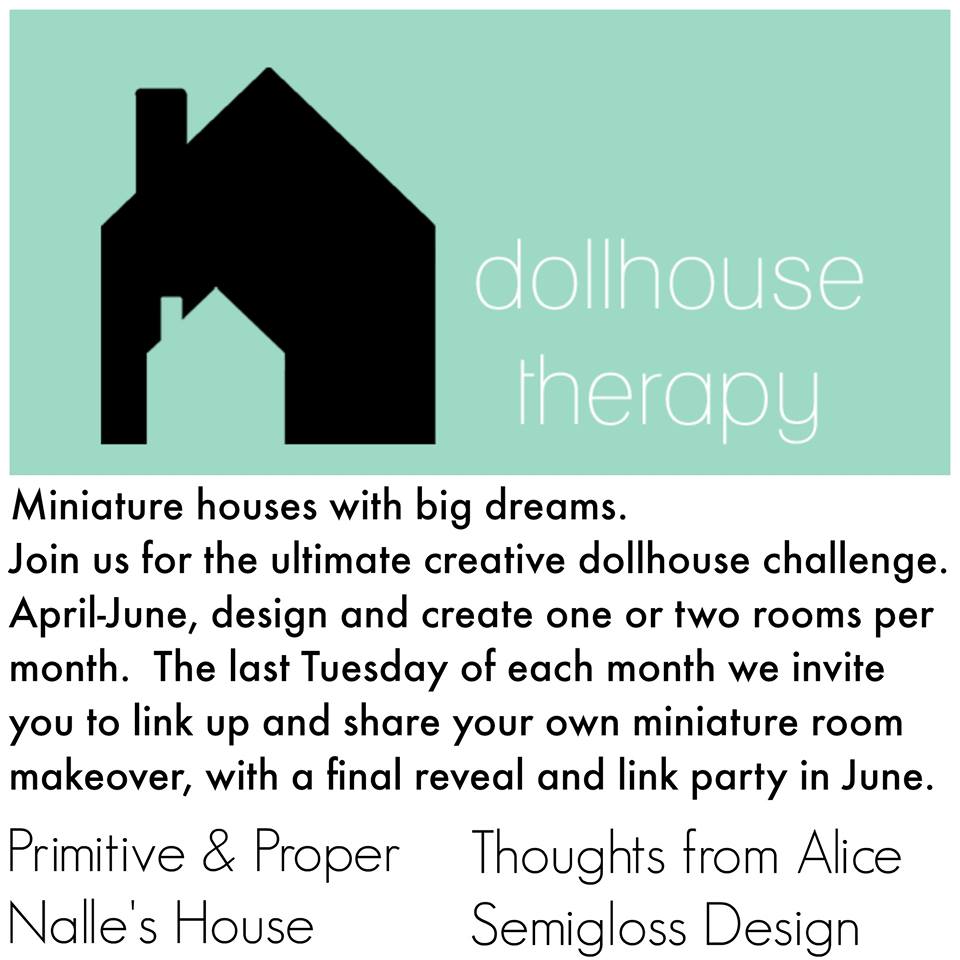 **A huge thanks to miniatures.com for providing products this post. All opinions are my own. I am very impressed with this company and will shop with them again, as I highly doubt this will be my last dollhouse.***
Next Tuesday, we will each be posting plans for our next rooms for May. Be sure to check back then.
On to my rooms for April.
Note: Accessories were moved around as I took photographs because my daughter kept bringing more stuff that she thought we should add. She's a stylist in the making.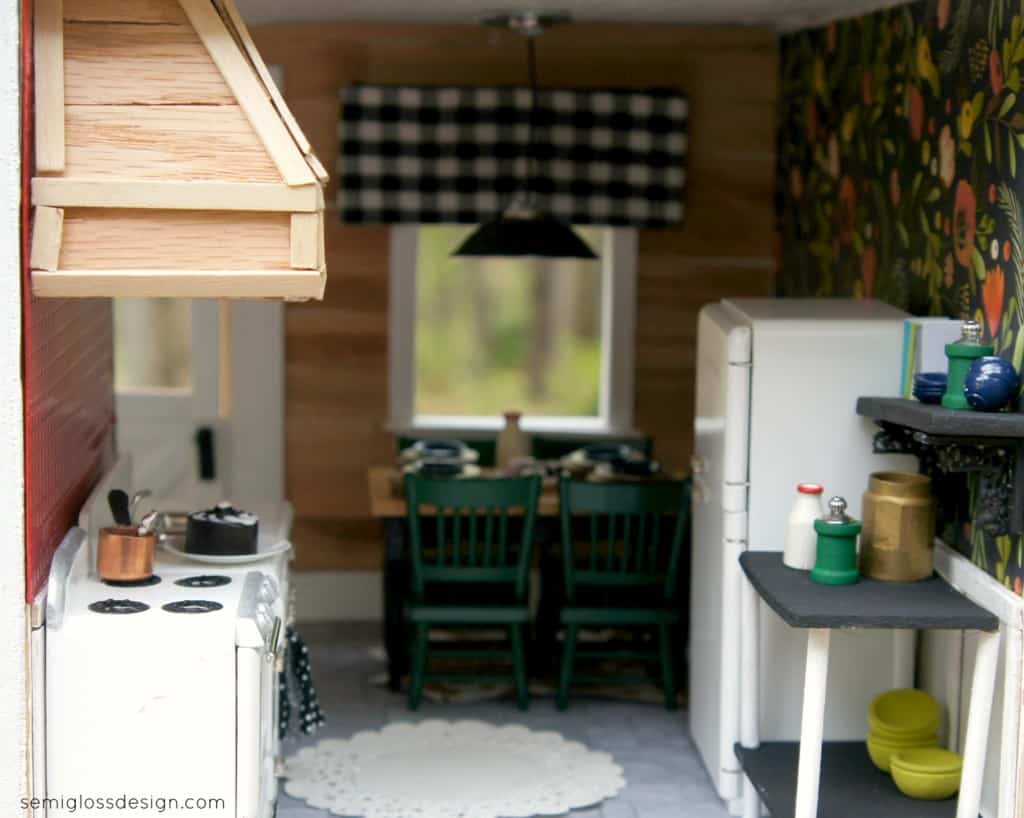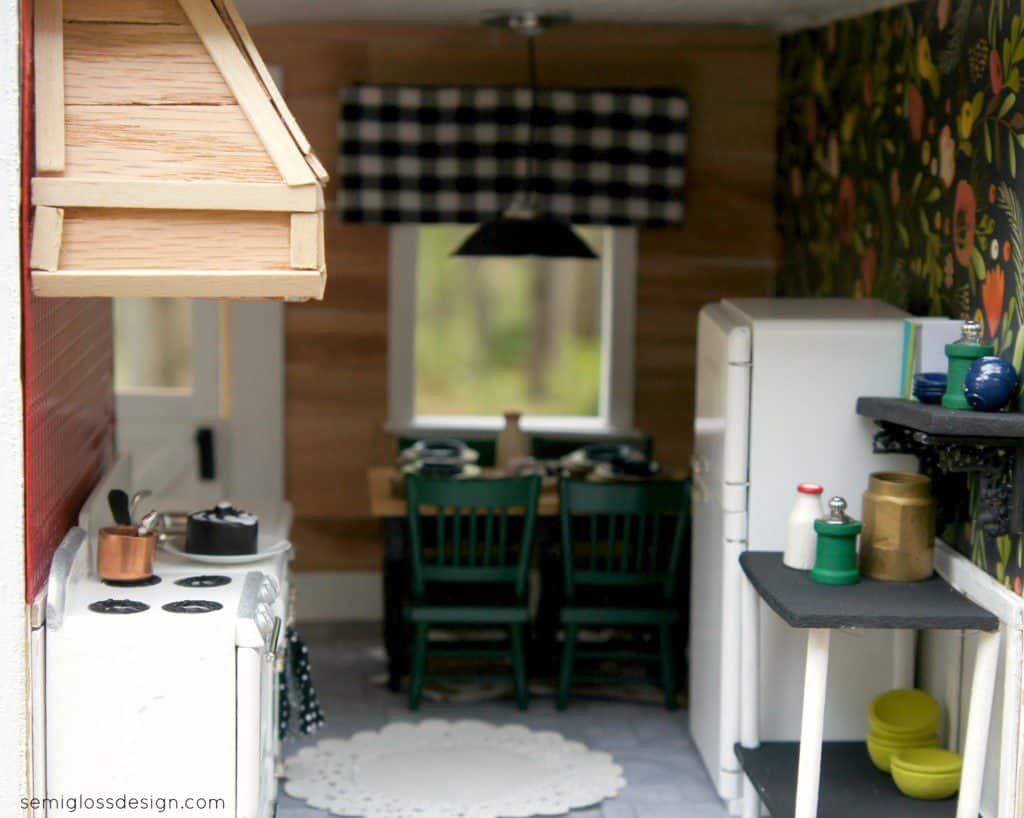 The wallpaper of course was the starting point. It's wrapping paper that I bought at Home Goods. Can someone please make this life sized wallpaper?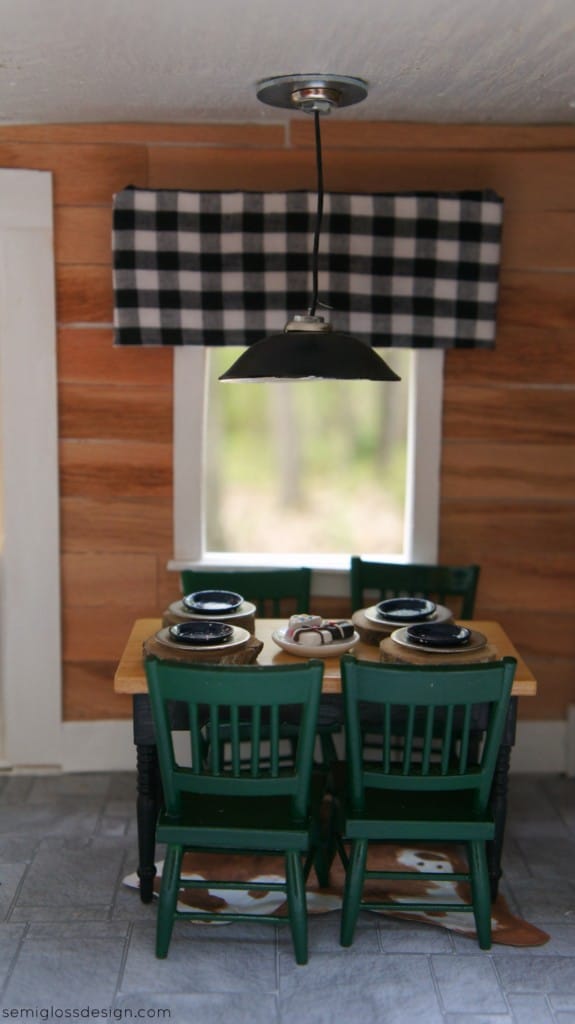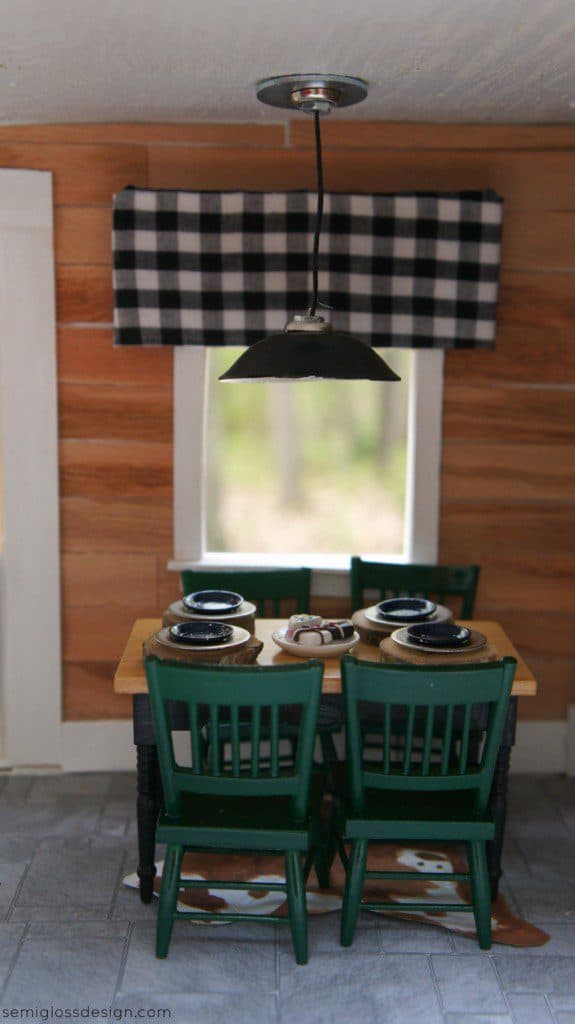 The front wall of the house will all be wood. I left the 1st floor unfinished to feel more cabin-y. The dining table and chairs were painted with craft paint and spray paint. The light is made from a wire bobbin that I found in the jewelry section of Joann, 2 tiny nuts, a large washer, string and metal grommet things from the hardware store. The valance was made from gingham fabric from Joann. The flooring is worn flagstone paper that continues into the living room. I like the rustic look of it. It feels perfect for a cabin.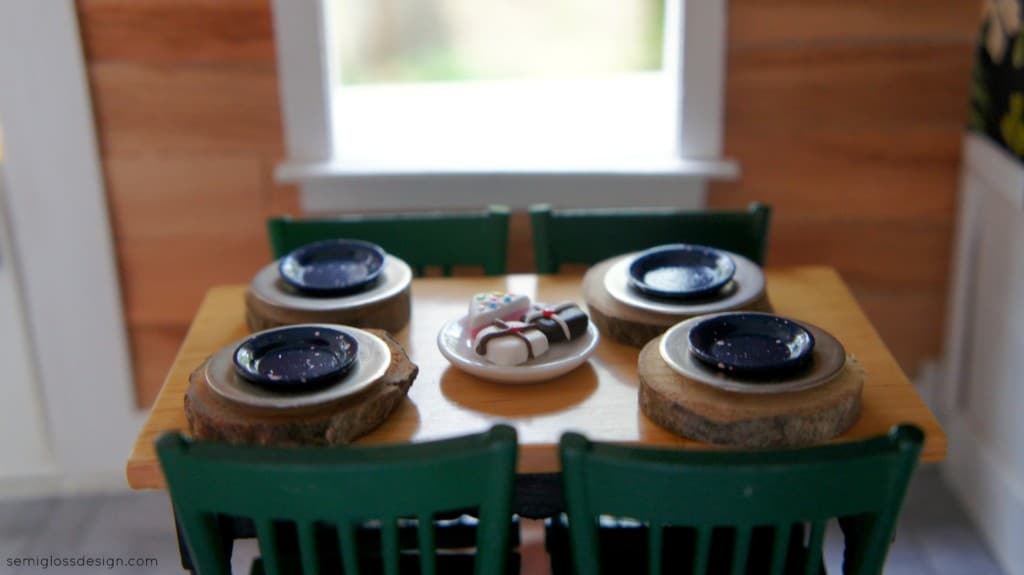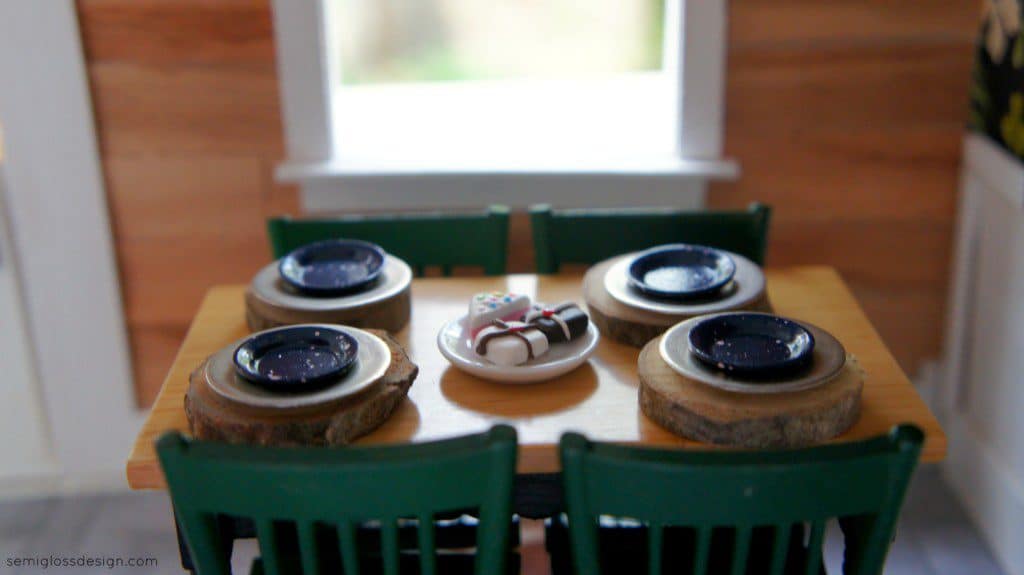 The table is set for cake. I used small wooden slices for chargers. I like the way the blue splatterware plates pop against the silver plates (I already owned these.)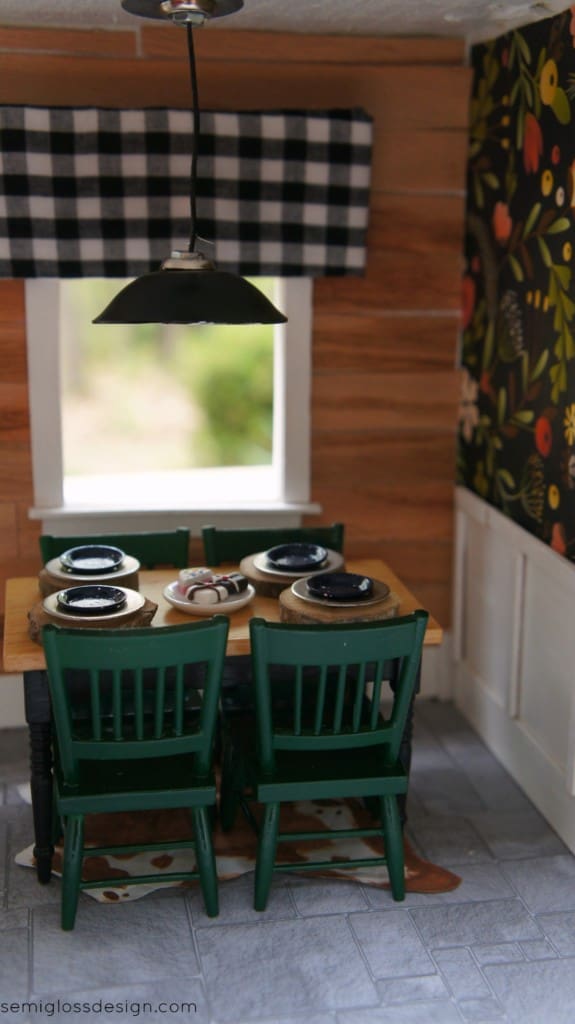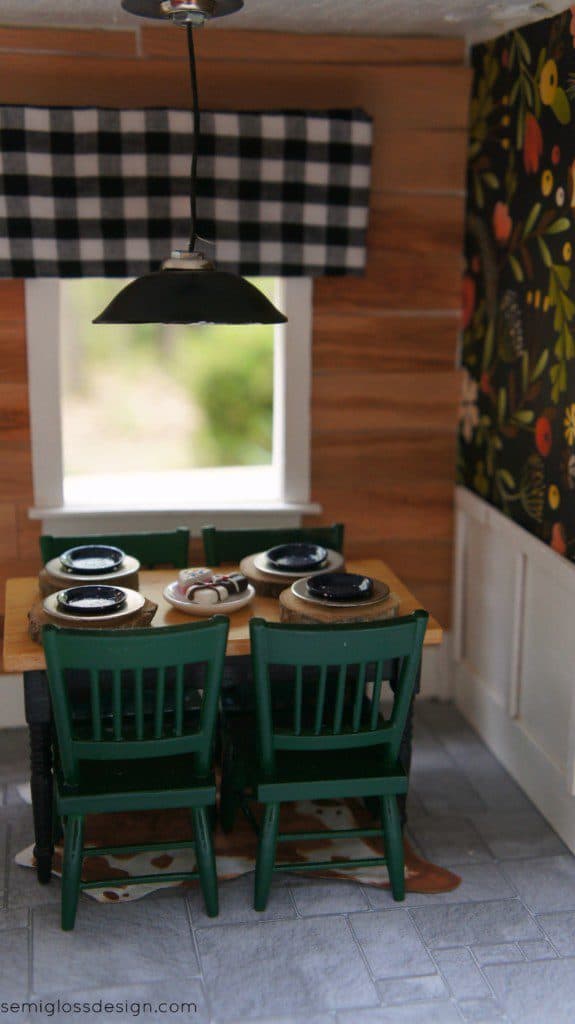 I love the way the wallpaper and the wood strips look together. And the buffalo check (actually gingham) valance and cowhide rug look so pretty with it! I love the pattern mix. So fun. I also added a board and batten wainscot around the lower portions of the room.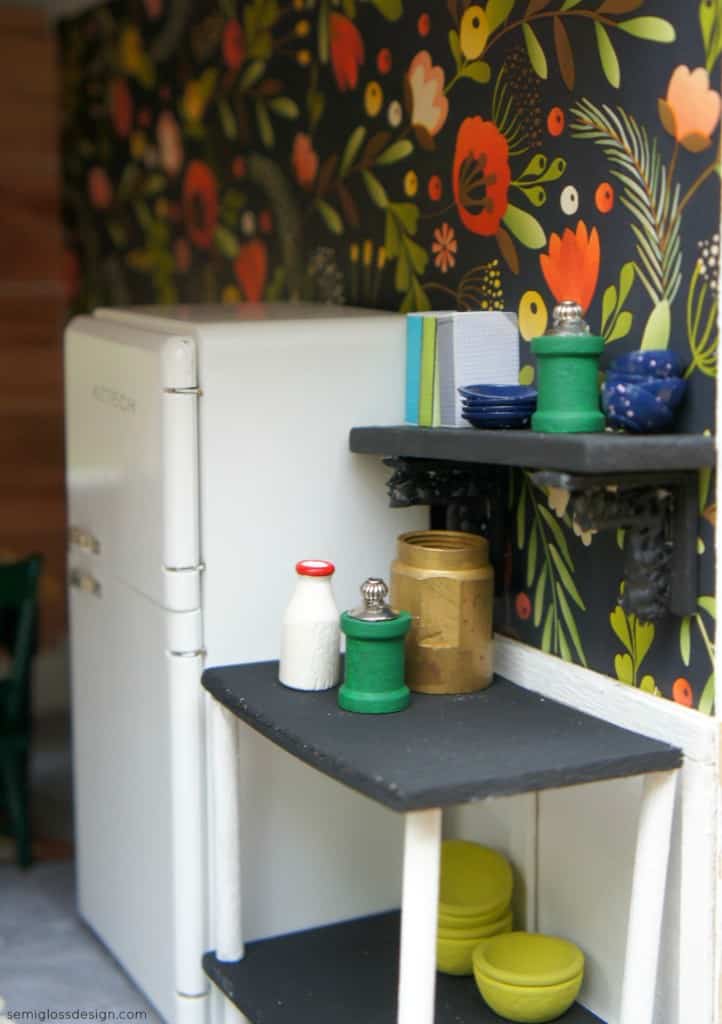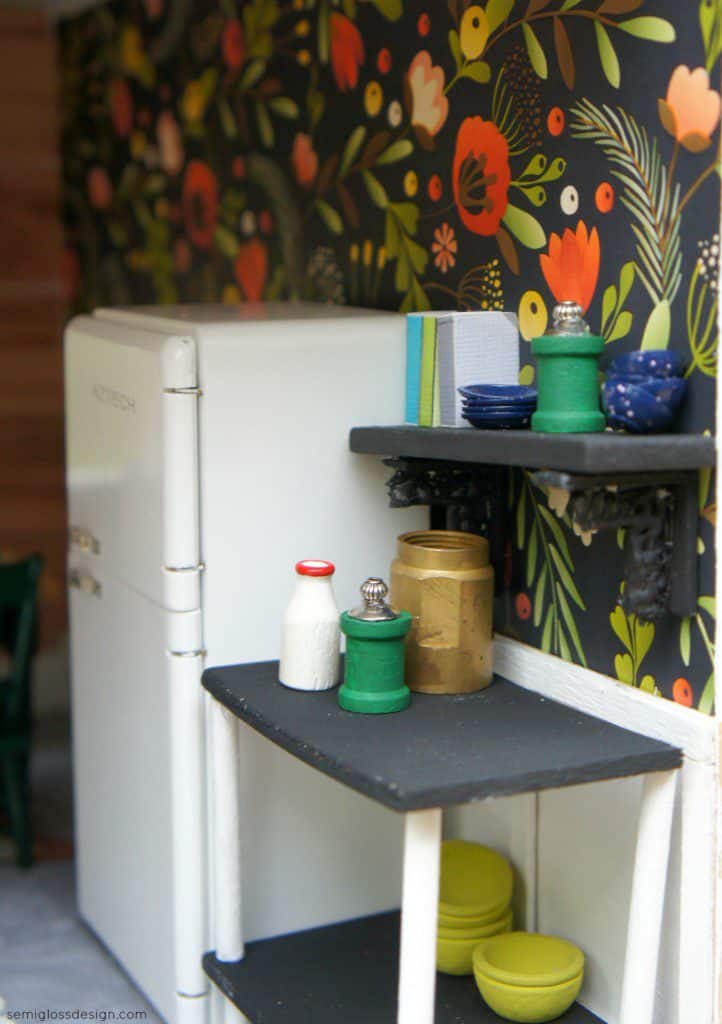 I made a little counter and shelf to add extra stuff. I still kind of want to buy tiny food to stock the fridge. It's the cutest. The refrigerator came with the sink and stove.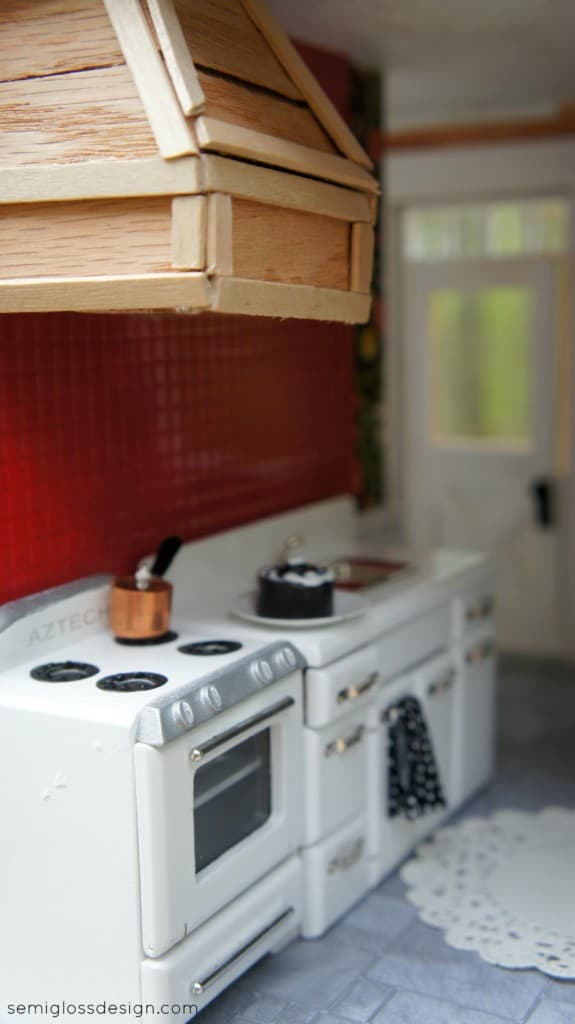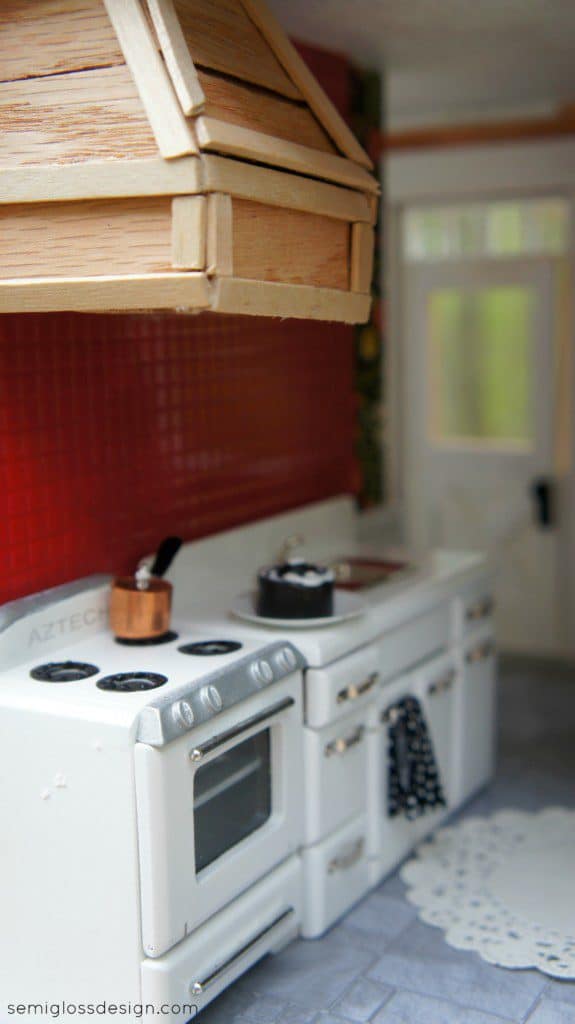 The vintage style appliances are adorable. I added a little tea towel out of a scrap of fabric. I made the range hood. It's a bit wonky. Cutting tiny wood is hard. I spray painted the tile sheet red. Spray paint helped me achieve a nice solid color.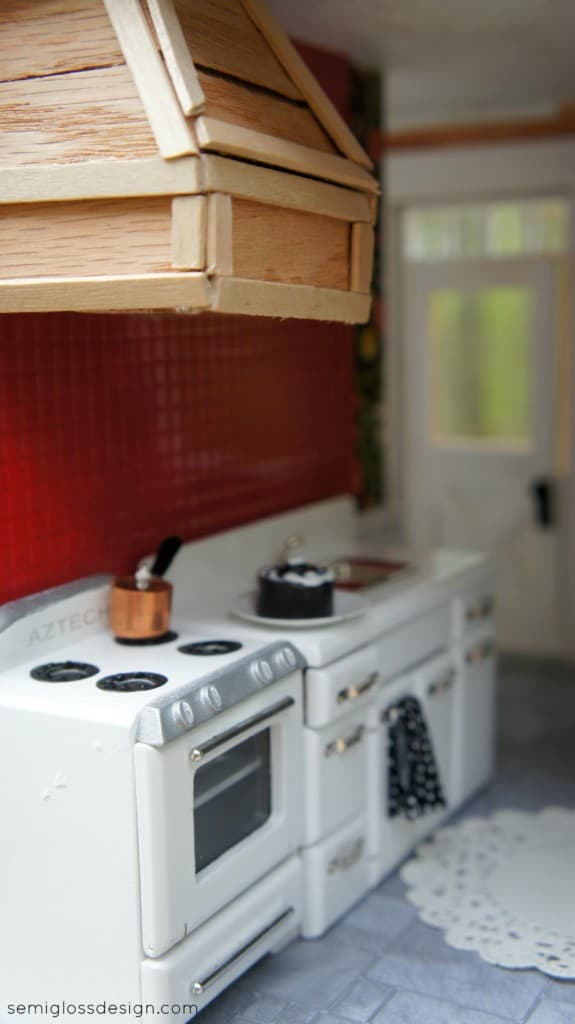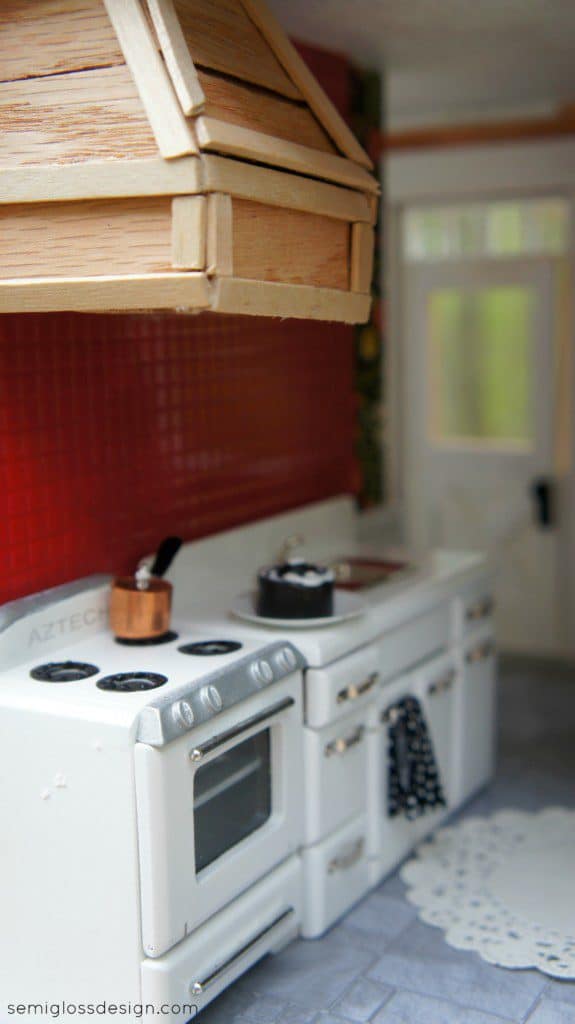 The drawers really work on the sink set. This one holds cutlery. Is there anything cuter than tiny forks? That cute little pot!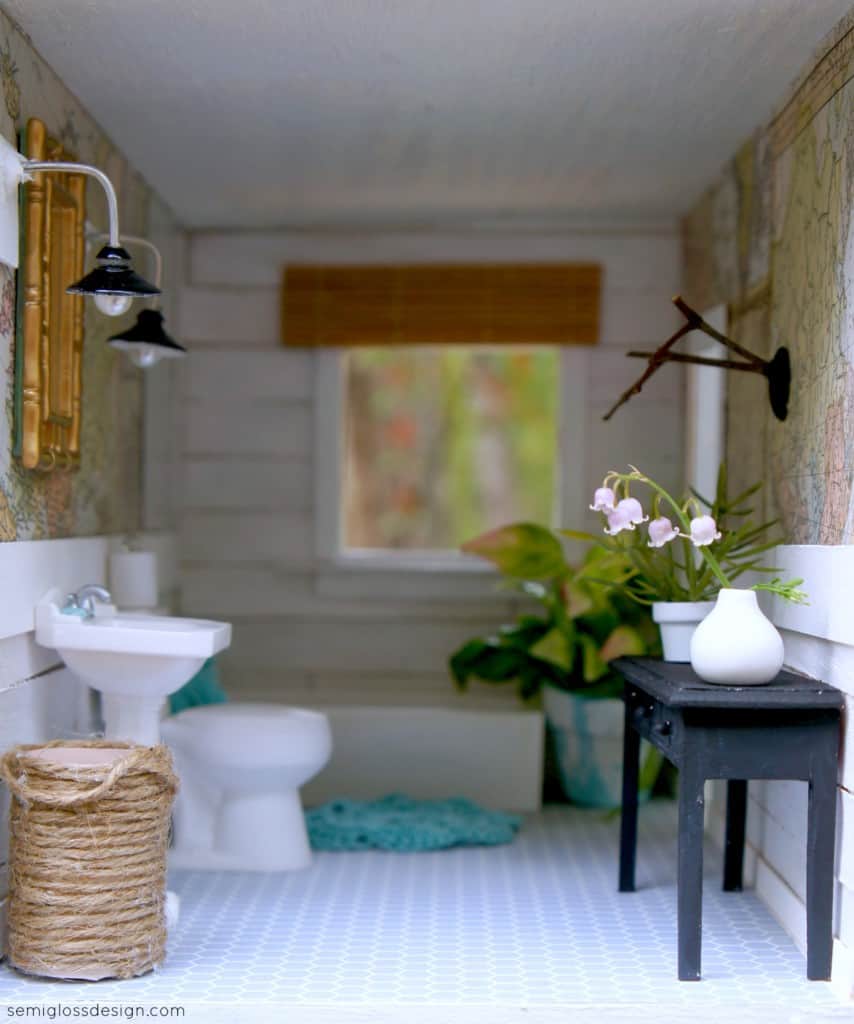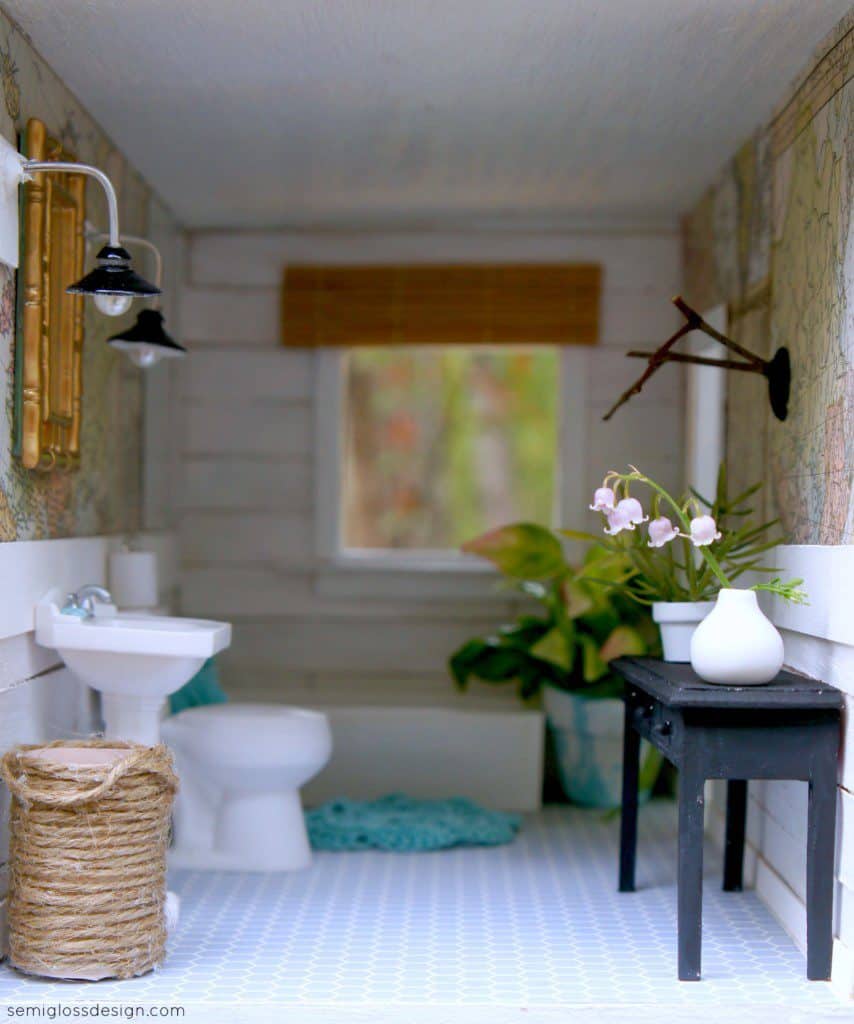 The bathroom is on the 2nd floor and I wanted a very serene space. Notice how the wood wall continues here. I painted these white to give it a shiplap feel. The floor and map wallpaper are scrapbook paper.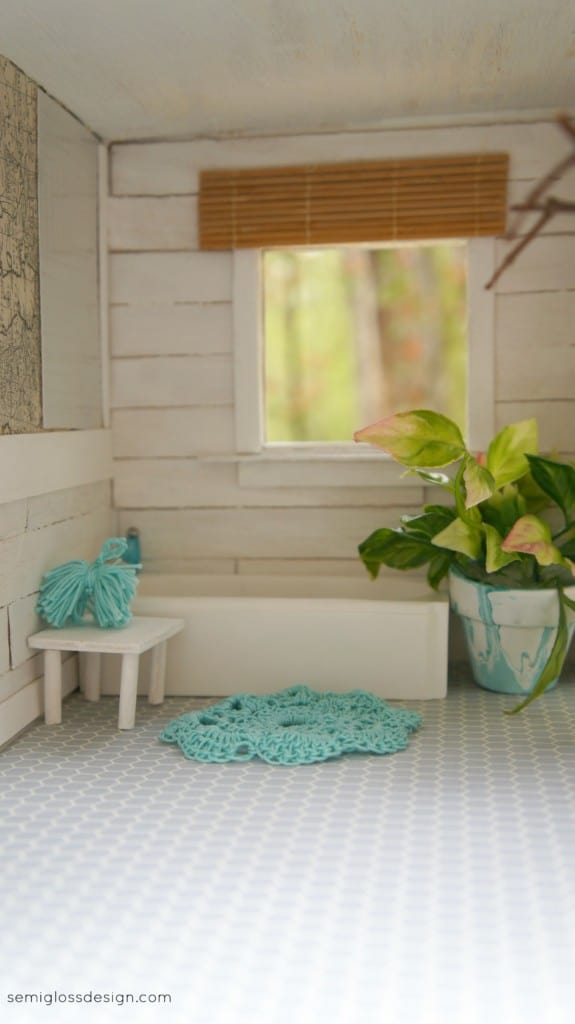 I tried to make a tiny pouf, but I think it's a bit of a fail. It just looks like a tassel. I even made a single crochet chain for a loop! I also made a crochet flower rug. Dollhouse making makes use of all of my other hobbies!
The plant is a bit large, but it's fabulous! I painted the pot white then dribbled paints over the edge and let them drip (upside-down). The plants are small faux plants from Joann. The blind is a piece of cut placemat. I used another piece of the tile sheet and painted this white for the bath, but it doesn't show up too well. My camera did not fit in here so well. I made the wonky little table beside the tub. It's obviously for holding wonky poufs.
Beads make great bottles. Remember when I posted about the Mod Podge mold? I found another use. One of the frames has an oval portion that was perfect for a soap. The bathtub has simple lines and nice ledges to place soap! It came with the sink and toilet. I like this set because it's simple and modern. The scale is perfect, too.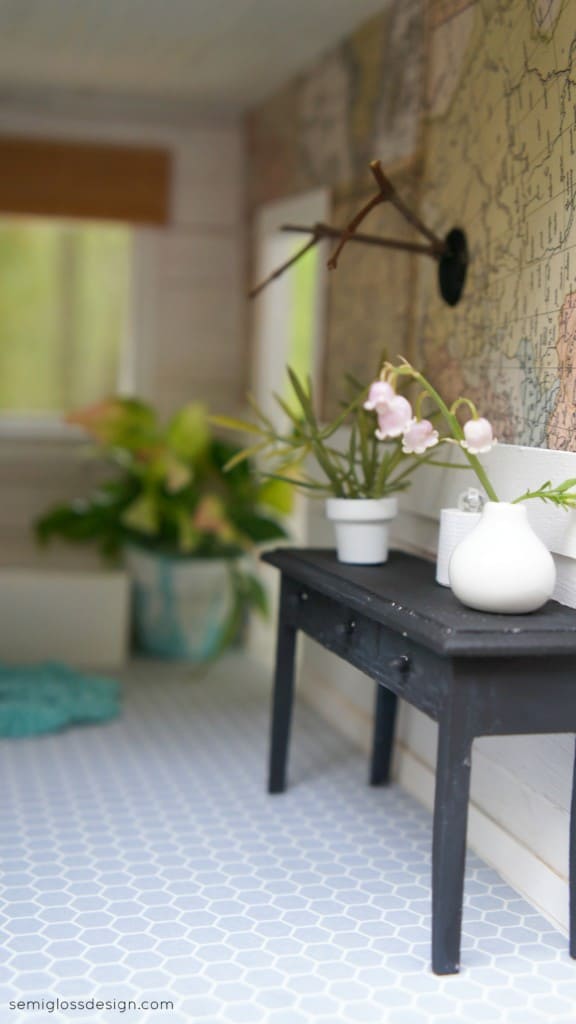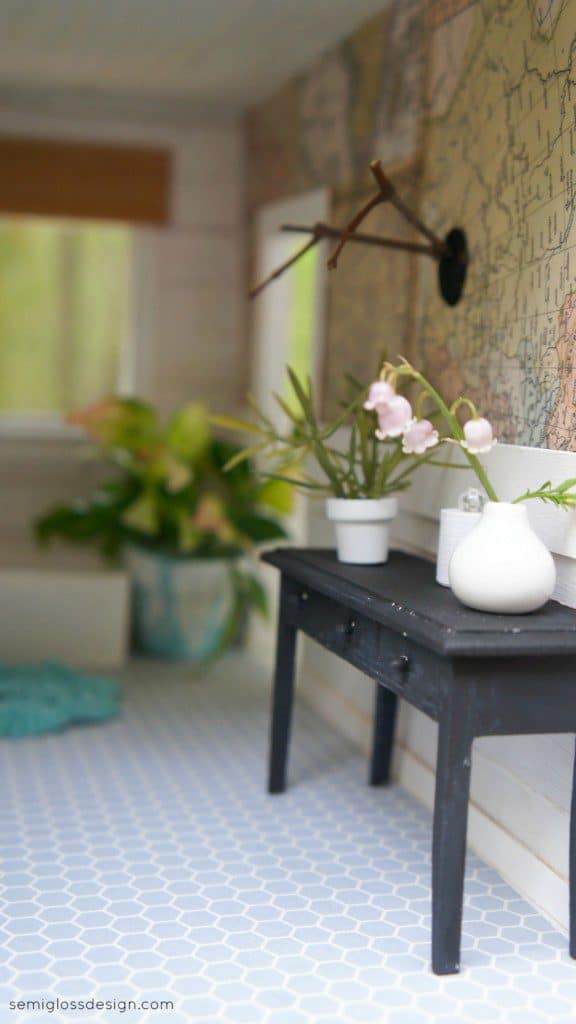 I painted a console table that I had bought years ago from Dollar Tree. It was red and impossible to cover, so it got painted black. The plant in the back is fake. The one in the front was real. I sent my daughter on a mission to find tiny flowers and she delivered big time! I think fairies left these. So cute. I had the vase already. The antlers are cruelty free (ha! tell that to my burnt fingers) and made from the mod podge hot glue mold again and sticks.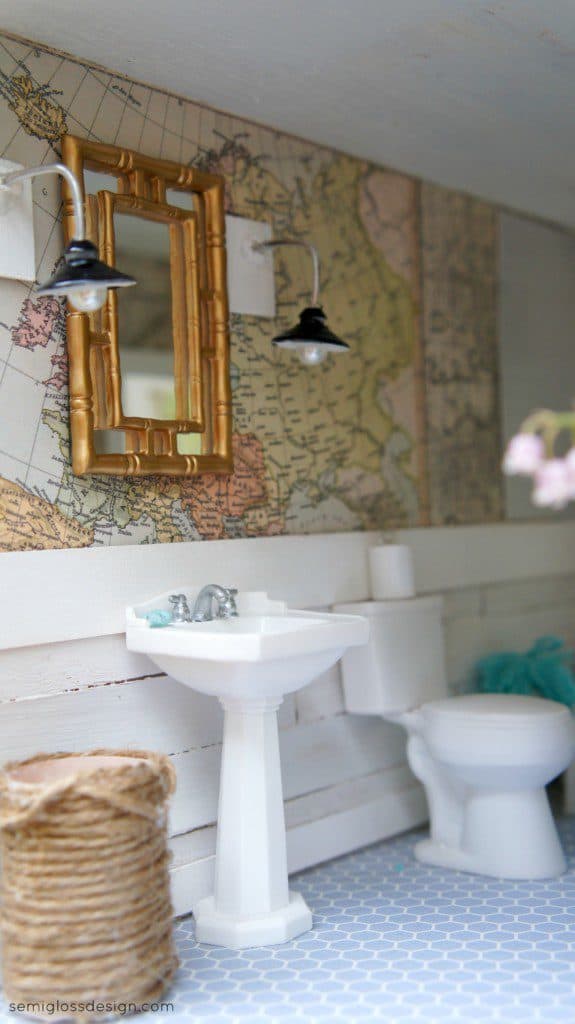 I made the lights from suction cups, pearl beads and wire. The hamper is made from twine and cardstock. The sink has a tiny flower soap, also a hot glue mold, like the other soap. The bamboo mirror adds a bit of glam to the bathroom. This is another item that I want in real life. Dollhouses: making dreams come true, in miniature.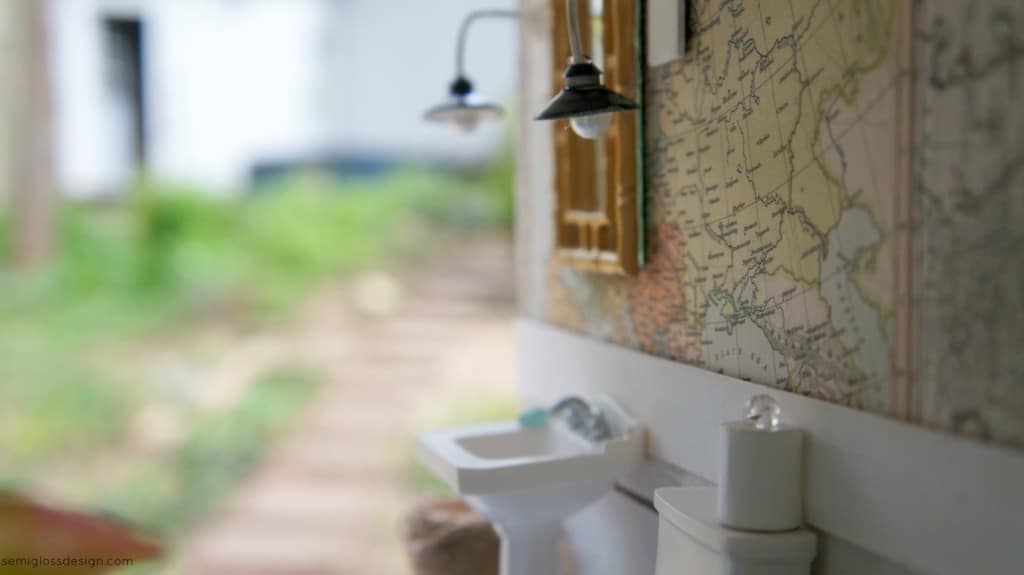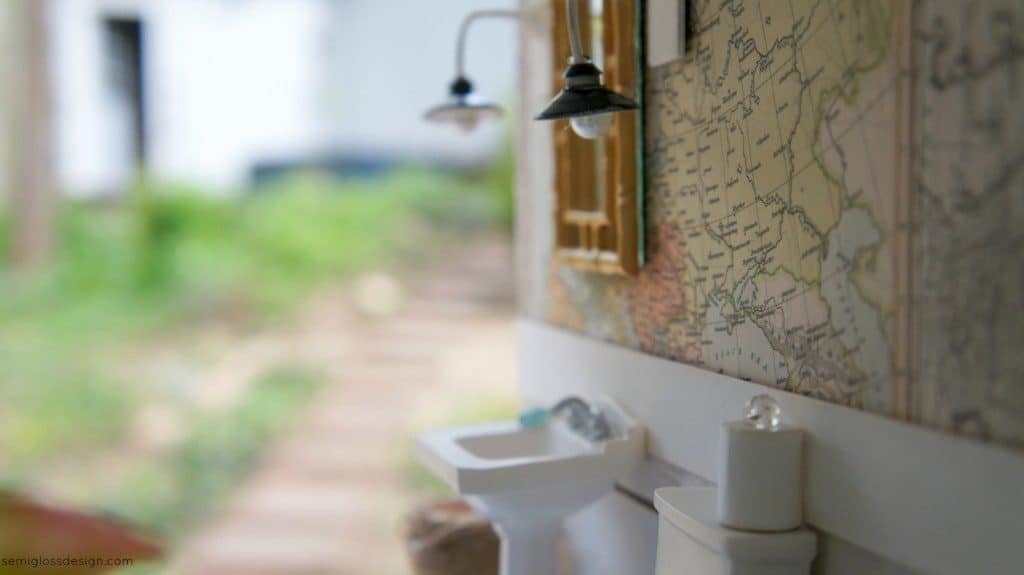 And an artsy look from the window.
Hope you made it through that! Longest post to date, I think. I'm so thrilled with my rooms. I can't wait to see everyone else's houses!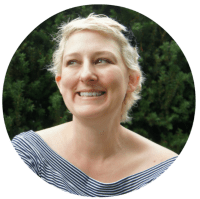 Emy is a vintage obsessed mama of 2 DIYer who loves sharing affordable solutions for common home problems. You don't need a giant budget to create a lovely home. Read more…