I love the look of paint bottles displayed in crates so I've been on the lookout for one to use in my creative space. The problem is that I'm cheap. Eventually, I'm sure I will run across one for super cheap. I did run across a newer version from a craft store to play with for now. Today, I want to share the techniques that I used to age a wooden crate.
This wooden crate came from a flea market for $6, but I've seen similar ones in the unfinished wood section at craft stores.
This baby had lovely fish stencils on it. I know you're really jealous right now.
How to Age a Wooden Crate from the Craft Store
Fish stencils weren't quite the look I was going for, so I sanded them off. Then I applied a coat of the DIY stain and let it dry. As I mentioned before, it wasn't quite the color I was going for, so I knew that it would take more work. I freehanded a circle and some letters to mimic an old crate. (E*K for my name and my husband's name, 1999 for when we got married.) I was just going to use some stencils but I couldn't find them for the life of me, so I made it personal instead. I sanded them down a bit to age them because freshly painted they were too stark against the wood.
Then I started adding stain. I rubbed some dark walnut onto the wood to make it darker in spots, mostly around the edges where it would naturally wear more. Let it sit outside until the awful stain smell goes away. When it was dry, I rubbed white wax and natural wax on it. I used Miss Mustard Seed white wax (which is lovely and has no smell) and Minwax Wax in natural (which smelled bad.) Using small amounts, I rubbed the waxes into the wood. A soft touch helped to avoid it from looking too fake. I added a tiny amount, then I buffed it until it was nice and blended. (That's my makeup technique as well.) Lol.
I really like the end result. The white wax really helped gray the wood down a bit and the dark stain and natural wax helped give it age. When it was done, the white backing was a mess, so I removed the top to slide out the backing. I spray painted it a teal color in my spray paint stash.
When it's done, add felt pads to the bottom to protect your table.
I love how paint looks separated by color. I can see at a glance that I buy a lot of blue, especially aqua. Lots of green as well. I'm really excited about how everything is turning out for my creative space!!!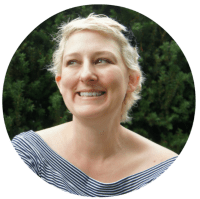 Emy is a vintage obsessed mama of 2 DIYer who loves sharing affordable solutions for common home problems. You don't need a giant budget to create a lovely home. Read more…