Looking for affordable dining chairs? Look no further. These chairs would look amazing with these affordable farmhouse tables!
Have you tried shopping at actual furniture stores lately? Maybe it's the town I live in, but those places are filled with overpriced, ugly furniture that looks like it's been there since 1982. As usual, I turned to internet shopping because it's just easier and so convenient.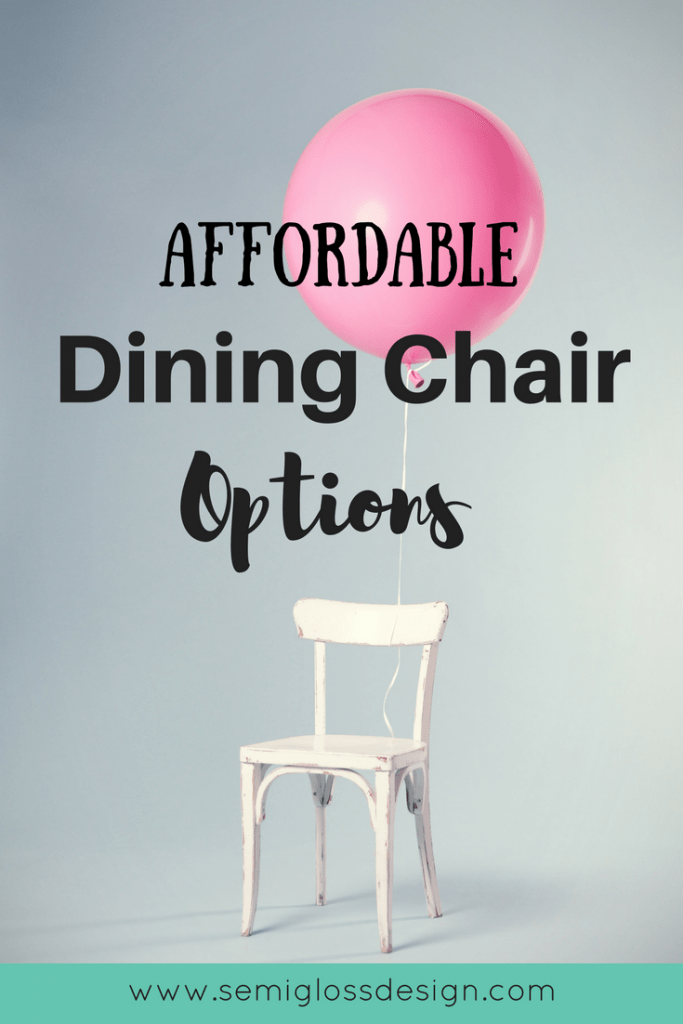 Things to Consider When Choosing Dining Room Chairs
Upholstered vs. Non-upholstered
Upholstered dining chairs are great if you spend a lot of time sitting around the dining table. Upholstery add to the comfort level. But it's not the best if you have messy eaters in your family. Consider options like slipcovers or applying scotchguard to the fabric.
Non-upholstered seating is usually less comfortable, but easier to clean. The most comfortable non-upholstered dining chairs feature molded seats that fit to your body and high backs.
Color
Neutral dining chairs are a classic choice that you are less likely to tire of. If your design style evolves, a neutral color is easier to fit into the new style.
Colorful chairs add a wonderful pop of color and are great statement pieces. If you choose a favorite color, chances are lower that you will tire of it.
Size of your dining room
For small dining rooms, look for chairs that take up less space visually. Open backs give the illusion of more space.
Larger dining rooms can handle solid chairs in a larger scale.
Style
I love an eclectic mix. If you are working with an older table, adding modern chairs is a great way to update the piece.
Affordable Dining Chairs
This post contains affiliate links. By purchasing an item through an affiliate link, I earn a small commission at no extra cost to you.
Modway Eon Side Chair These come in other colors as well. Bentwood style chairs are cute and timeless. They go with a variety of styles, which I love. The open back is great for making small spaces appear larger.
Target Threshold Windsor Dining Chairs in Mint (set of 2) These come in many other colors. How cute would these be in several different colors? Black chairs would look amazing with a wood farmhouse table.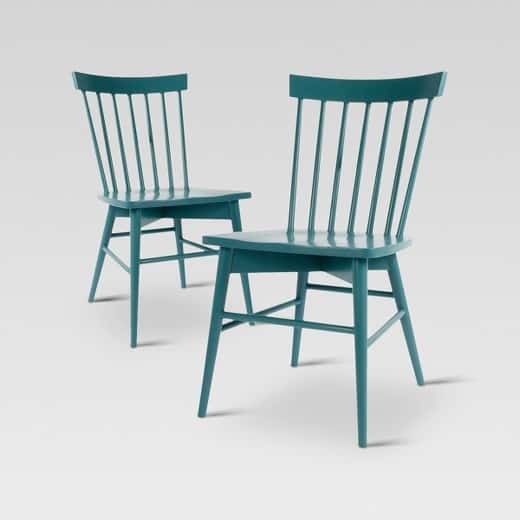 Beige Linen French Style Oval Back Chair These are so pretty and if I didn't have messy children, this would be the set for me. I love the delicate details and the round back. I would pair these chairs with a modern table for an eclectic look.
Target Threshold Carlisle Metal Chair I love the way these chairs look. The high back provides more comfort than the low version. These chairs come in a lot of fun colors! Obviously aqua is my favorite, but the metal is a classic look for farmhouse style.
On a side note, I've owned the shorter version of these chairs for a few years. We use them as outdoor seating and they hold up surprisingly well.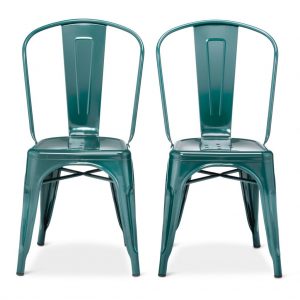 IKEA Henriksdal Chair These chairs are so comfortable and the white slipcover can be taken off and bleached.
I own these chairs and I shibori dyed the slipcovers. I can spend hours sitting in these chairs and I love that the slipcovers can be washed. Even if they get ruined, the slipcovers are very inexpensive to replace.
Vintage Style Cross Back Chair This chair is simple, but timeless. I love the clean lines and the cross back detail.

Eames Style Chairs, set of 4 Eames knock off chairs are always my favorite. I love the idea of mixing a very modern chair with a rustic farm table. These chairs look very kid friendly and easy to clean!
Spindle Back Arm Chairs I love this modern take on the classic Windsor chair. The arms are so cool! I would pair these traditional chairs with a very modern table.

Poly and Bark S Chair Set of 2 These are the chairs that we currently use in our dining room. They are incredibly comfortable and fit your body perfectly. They are also easy to clean because you can wipe them down. I love the modern look of these chairs.
Wadsworth Dining Chair with Walnut Legs (set of 4) How cute are these chairs? I love that they're upholstered for added comfort. And the color is gorgeous!

You might also like:
Pin for Later!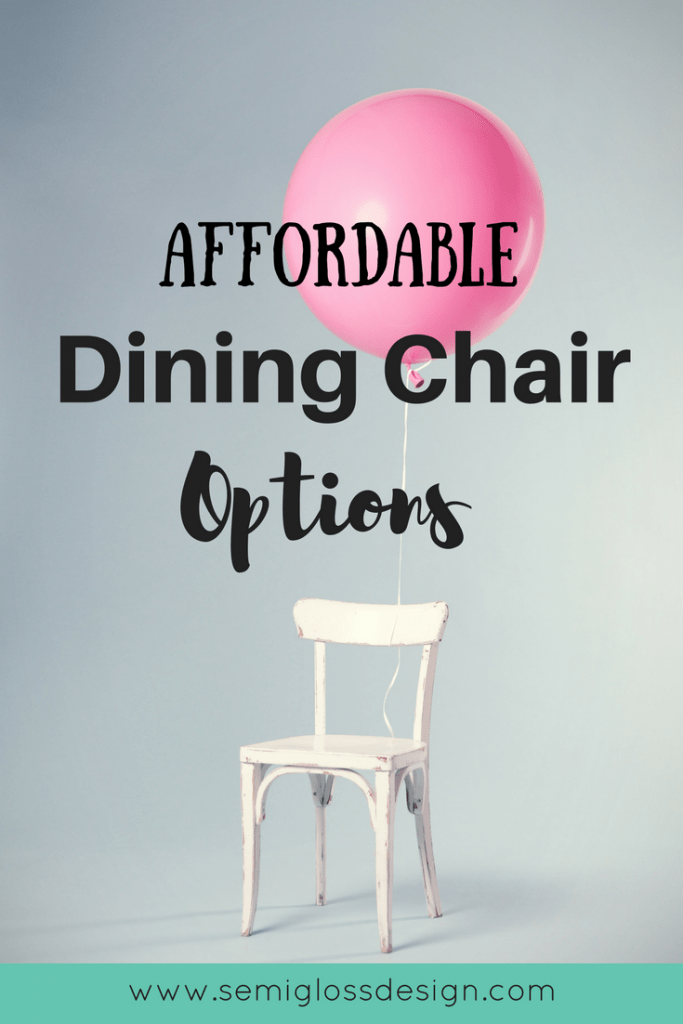 You might also like: