Fall is all about sweaters and warm beverages, but my favorite part of fall is spending time outside around the fire. We have 2 firepits; one is large and located in the woods and one is small and right outside the back door. The larger one is often used for burning debris and large items and is great to sit around on the weekends. But what about when we want a small fire on a week night? A small firepit allows us to enjoy a smaller fire and still get the kids ready for bed on time for school the next day.
9 Reasons I Love My Firepit
S'mores. We eat s'mores enough that we've developed gourmet s'more flavors. A nice fall fave is to add blackberries to a regular s'more. Also, dark chocolate all the way! I don't always partake in s'mores, but the kids have never turned one down. 
Family time. Fire time means no screen time. My kids love computers and TVs, so time outside away from devices is a nice break. It means that gasp! we actually have conversations. If I'm lucky, they're sometimes about things other than Minecraft or Five Nights of Freddy!
Instant date night. Hanging out with the hubby with a glass of wine by the firepit is better than any date we could go on. We both enjoy the quality time together. Plus chilly weather = snuggling (insert eyebrow waggle here.)
No cooking. I don't enjoy cooking so having a fire is a good excuse to tell the kids to cook sausage over the fire. Last night, I threw together some bruschetta to go along side it. I'll usually have a veggie burger or something easy. Then s'mores for dessert.
The smell. The scent of a fire is better than any candle you buy. I'm not a fan of candles that make me hungry anyways.
Wildlife observation. On Sunday night we watched as two eyes flashed by in the dark (our dog did nothing….) and we've seen bats and toads out at night. Earlier in the season, the woods were filled with fireflies.
Slow down. It's nice to just slow down and just relax. Sitting by a fire is extremely peaceful.

Spot the puppy nose.

Let firebugs be firebugs. I like to let my kids play with fire in a controlled environment. There's something satisfying about lighting stuff on fire. It's also a good time to put those boy scouts skills to use! They will be so proud when they get the fire roaring. 
Clean up. We live in a forest, which means trees are constantly falling. Having a fire is a good way to put those branches to use. Plus, it's a nice way for the kids to earn allowance.
Note: We just bought a new firepit, because our old one finally rusted through after 4 years of use. We chose this copper one from Lowes. I'm pretty smitten with it already. We've had 2 fires in it since we bought it and I'm loving how the heat is changing the copper. It shimmers like a rainbow and is so pretty to look at.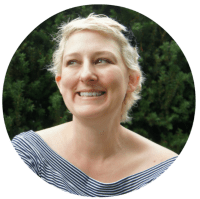 Emy is a vintage obsessed mama of 2 DIYer who loves sharing affordable solutions for common home problems. You don't need a giant budget to create a lovely home. Read more…