Over the weekend, I played with DIY stain. It was a pretty fun science experiment (unlike switching the theme of my blog – if it looks funny right now, I'm working on it and probably crying a bit too.) So back to the stain, it was fun to experiment with. In case you've never heard of DIY stain, you fill a glass jar with vinegar (doesn't matter what kind – vinegar, not the jar) and add some steel wool to it. Let it sit for a bit and you have stain that supposedly turns wood into that lovely, weathered look that we all love. As with all DIY projects, I learned a lot during the process. I'm sharing that info today, in case you also want to experiment as well.
7 Things I Learned About DIY Stain:
The grade of steel wool doesn't matter. Most directions call for 00, but I used 1 and it worked fine! So don't freak out when you get home and realize that you bought the wrong grade. 
The steel wool has to be washed for the oxidation process to work. Even if the package does not specifically say that it was treated to prevent rust, I would still wash it out. It can't hurt it. Pour dish soap on it and rinse until the water runs clean.
It's not the stuff at the grocery store. I guess you could use it, but you're going to be washing out a lot more soap. Save yourself some time and run to the hardware store instead.
Don't try a stainless steel scrubber. I didn't try it, but I'm pretty sure that "stainless" means that it won't rust. I had grabbed one, thinking it was the right thing, so I was pretty disappointed when I read the label.
It smells bad. And I like how vinegar smells. Not normal stain bad, but like don't open it right under your nose bad.
It doesn't necessarily have to change color to work. Mine was clear at first and still changed the wood color.
The resulting stain isn't grayish, more of a reddish brown. Like rust? Hmmm, I wonder how that happened…
Bonus Tip: When I rubbed it with poly, the rag came away brown, so it definitely needs a good top coat, unless you want brown hands every time you touch it.
The verdict about DIY stain
It was a fun experiment, but I'm not exactly enamoured with the results. It turned out reddish, almost purple, instead of the gray that I wanted. This wasn't the look I was going for, so I still ended up using the stinky stains on top on it to get to the color I wanted. I have at least 8 cans of stain in my garage that I could have used instead. I don't think I will try this technique again.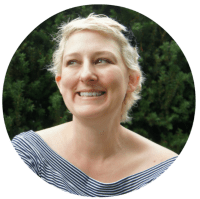 Emy is a vintage obsessed mama of 2 DIYer who loves sharing affordable solutions for common home problems. You don't need a giant budget to create a lovely home. Read more…