I passed my 1 year blogging anniversary in November. So much has changed since that first post and I have learned so much since them. I've had some fun opportunities and made some great friends along the way. My house looks completely different and I've been inspired to dream a little bigger than I would have before. Today, I'm sharing some blogging tips that I wish I had known a year ago. I can't claim to be a successful blogger and I feel nervous about even writing this post, but I love sharing knowledge with others.  Enjoy my 10 blogging tips.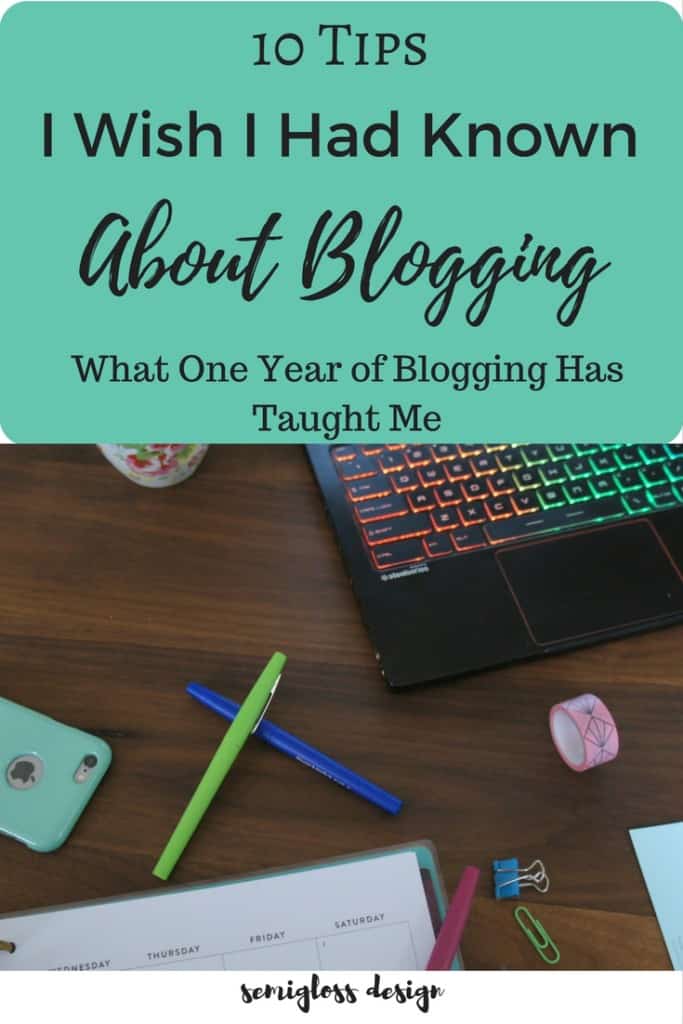 10 Blogging Tips That I Wish I Had Known When I Began
Pick the right platform from the beginning. This is an important blogging tip! If you have any intentions of monetizing your blog or want absolute control, go with wordpress.ORG not .com. Trust me and save yourself the pain. Even the business plan sucks. The themes are still still limited and so are the plugins. The self-hosted version of wordpress (.ORG) gives you so much more control. You can choose from millions of themes and plugins. Plus, there is so much documentation around on how to do everything.
Pick a good hosting site. Don't use Blue Host. I know that everyone says to use Blue Host, but that's because they're making money off of the referrals. I fell for it too and I'm patiently awaiting for my 3 years to be up so I can switch to another company. That being said, my site hasn't gone through the horror stories that other people have experienced. My customer service experience has been fine. If I could do it over again, I would start with SiteGround. The offer SSL for free and are way more secure. Plus, it's way faster and the c-panel user interface is much more intuitive. My husband has it for his website and I love it. It's a beginner level friendly and affordable. I'm not being paid to say this; I just like what I've seen from them. 
Every blog post needs to be informative. This can be hard with home decor***, but even if it's a list of why you made a decision, every post should have a point. Rather than "look what I did," maybe describe how you did it. Think of how you search for things. Tutorials and tips make the best blog posts. I cringe at a lot of my old posts with no point. Plus they're not very pin-able. ***Some home decor bloggers do fine without this method, but they already have a loyal audience. If you're starting at zero, your posts should be informative!
Use keywords everywhere. Research them and use them. Every single blog post should have one. I use Yoast to make sure that I have them in the right places, but it feels a bit clunky. Google has a free keyword planner. It's tricky to get to, but "skipping the guided tour" should get you there. Pinterest also is good for research. The predictive text when typing in a search is a good indicator for what people search for. Keywords should be in your title, in the picture names, in the alt text (very important for pinterest), in your headings, and in your body. Variations also work. Search engines are smart.
Use pinterest. Every blog post needs a good pinterest image with text overlay (735 x 1102 px). It needs to be a LONG picture. Change the alt text to your keyword laden description. Leaving blue-chair-living-room-196 isn't useful for anyone. No one is searching for that. But writing "This easy DIY blue chair gives your living room a boho feel. Find more decorating ideas with blue chairs now!", is a much better description because easy, DIY, blue chair, living room, boho, and decorating ideas are all keywords!
Use a comment email reply plugin. I use this one. No one goes back to see if you answered their questions. Use a comment to email plugin to remind your commenters that you love them. This used to be a standard feature on wordpress and I love it. This does NOT give consent to put people on a newsletter list. Don't do that, please.
Be social. It's easier than you think to make friends online. Leave comments, be nice. Even for an introvert, it's not that bad. Chances are good that the blogger that you admire started blogging because they LOVE sharing information. Don't be afraid to ask questions. They're just people. The relationships has been the best part of blogging. I love having friends all over that I've never met. Plus, it's really nice to "meet" like-minded people.
Keep learning. There are so many ecourses out there that promise results, but if you look long enough, there is plenty of free info too. Facebook is full of groups that have very lovely, informative people. I really love the Simple Pin podcast. Kate Ahl is the best!
Have realistic expectations. For the most part, the people making tons of money from blogging, blog about blogging (why, yes, that is what I'm doing right now). There are a few outlers to this, but it seems to be the case. The ones making a lot are normally selling expensive courses and have worked years to get there. You probably won't make a million dollars in a month. Plus, blogging is much harder than it seems! It can take all day to write a post! I underestimated the time it would take, so don't commit to too much at once. Home decor and DIY blogging can take even longer. It takes forever to make something, clean up the area to photograph something, photograph it, edit the photos, and then write the post.
Understand affiliate links. Before I started blogging, I'll admit that affiliate links left a bad taste in my mouth. Here's how they work. I refer a product. The company is thankful that I'm referring people to a product, so I get a small percentage of that sale at no extra cost to the customer. This percentage is tiny. To date, I've made .05, so I'm practically rich. Think of affiliate links as a small way of saying thank you to your favorite bloggers at no cost to yourself. If you talk to me in real life, I'm probably going to be full of suggestions for products that I'm passionate about (i.e. Dewalt tools) and my blog is the same way. The blog just allows me the possibility of making a little bit of money from it. Using affiliate links has given me a much better understanding of how the work and I feel less skeevy about them.
I hope you enjoyed my blogging tips. By next year, I'll have even more tips to share! Happy blogging!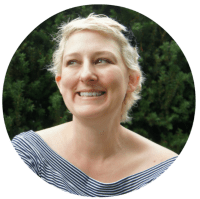 Emy is a vintage obsessed mama of 2 DIYer who loves sharing affordable solutions for common home problems. You don't need a giant budget to create a lovely home. Read more…